This Potato, Leek and White Bean Soup is a delightfully cozy dish that tastes decadent, but is made with simple, healthy ingredients. It's perfect to warm up on a blustery day - and it's quite easy to pull together in less than an hour!
We love to make a big batch of this soup to enjoy for lunches or simple dinners throughout the week. Pair it with a green salad and a slice of sourdough bread for a more filling meal.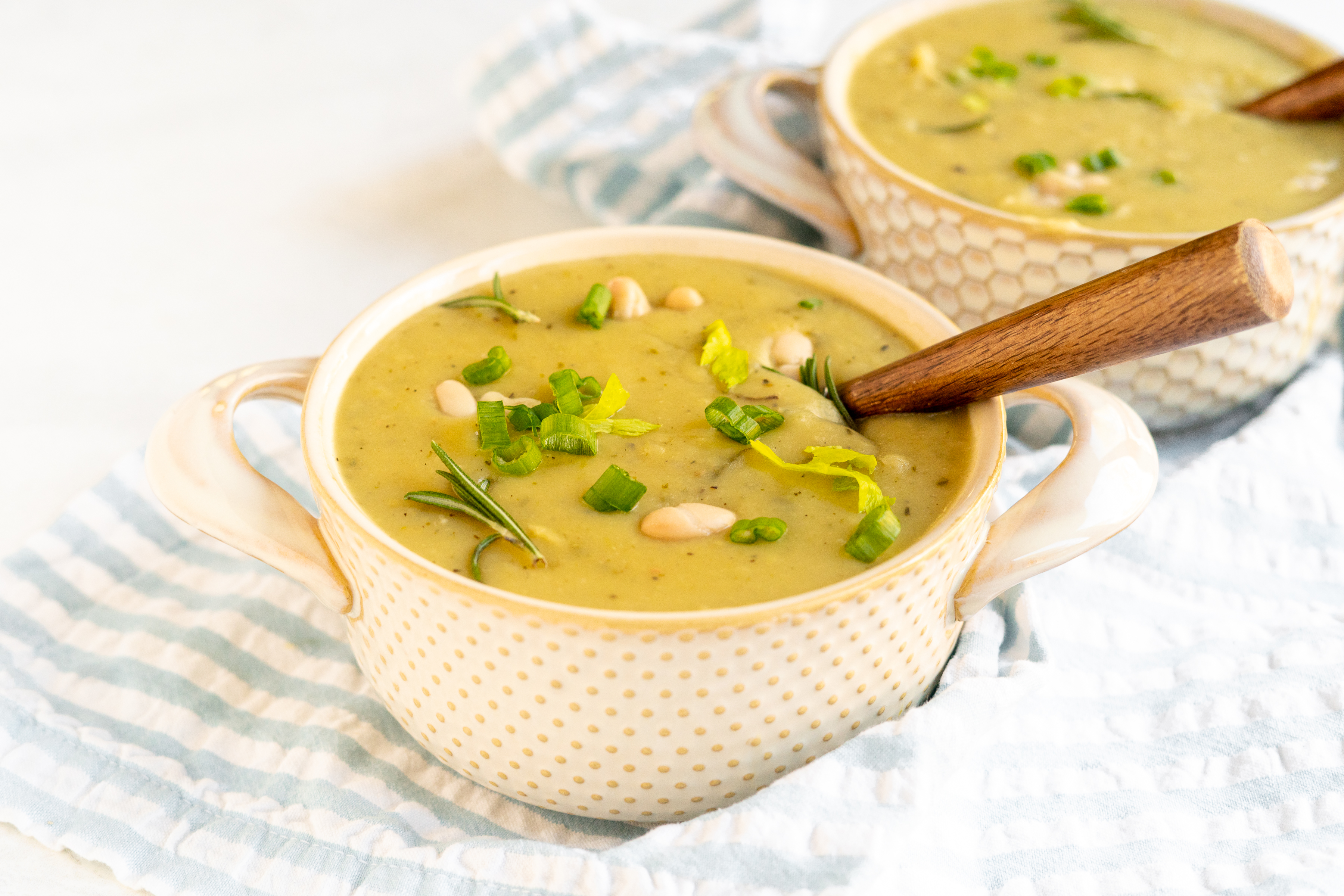 The combination of potatoes and leeks in soup is pretty classic, but it's the addition of white beans that makes this soup go above and beyond. Adding in the white beans changes the soup in two important ways. One, it creates an even creamier texture to the soup, giving it a bisque-like feel without all the cream. And two, it adds in a decent amount of protein and fiber, which helps this soup be more filling and satiating than other similar recipes.
It's no secret that cleaning leeks can be annoying. Because of the way they grow, they often have lots of dirt tucked between the layers. We suggest buying a whole bunch of leeks at one time (preferably when they're on sale!), and cleaning, slicing and freezing them all at once. Frozen, sliced leeks can be added right to the pot straight from the freezer, and you can save yourself the time and hassle of cleaning leeks each time.
To clean the leeks, simply remove the outermost layer, then slice off the root end and cut a slit lengthwise up through the light green part of the leek, going all the way through it. Then carefully rinse the layers in the sink, paying close attention to the place when the leeks turn from light to dark green, since that's where the dirt will often accumulate. Make sure you get each layer. Then return the leek to the cutting board and slice thinly into rounds or half-moons all the way up from the white part to where the dark green starts. The dark green parts are good to save for flavoring stock, so you can place those in the freezer for future use or simply compost them.
If you really don't want to be bothered with cleaning leeks at all though, you can always use a combination of scallions and onions, but we highly recommend the leeks. They have a creamier texture and unique mellow onion taste that can't quite be replicated.
How to Make Potato, Leek and White Bean Soup
This soup comes together very quickly and all in one pot! Simply melt the butter in a large soup pot over medium heat. Add in the sliced leeks and celery and saute for a few minutes until they are soft and starting to get translucent. Add in the minced garlic and stir for 2 minutes.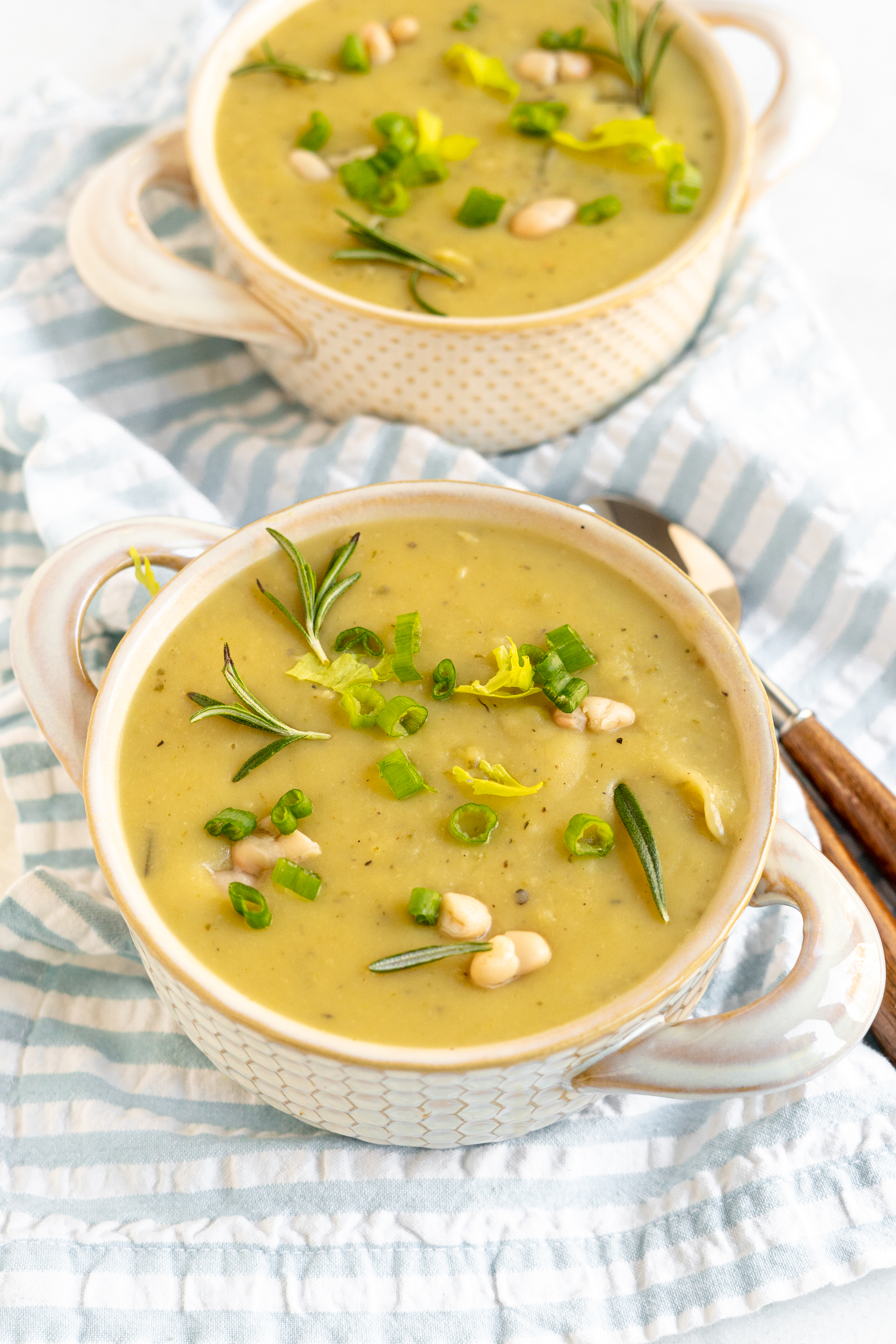 Next, add in the diced potatoes, white beans, bay leaf, rosemary, thyme, salt, pepper, paprika and broth. Cover the pot and bring it to a boil. Stir it again, then reduce it to a simmer and cook for about 20 minutes until the potatoes are tender and easily pierced with a knife. Then remove the pot from the heat and pull out the bay leaves and the stems from the rosemary and thyme. Make sure to get them all before we blend up the soup.
If you have an immersion blender, go ahead and use it now to blend the soup to a creamy consistency. If not, you can use a high-speed blender, but be cautious. Do it in a couple batches, because too much hot soup in the blender can cause it to blow the top off.
Either way, the final consistency of the soup should be creamy.
Potato, Leek and White Bean Soup
Prep Time: 15 minutes
Cook Time: 40 minutes
Total Time: 55 minutes
Makes 8 cups
Ingredients
4 tablespoons grass fed butter or olive oil
2-3 leeks, whites and light green parts only, cleaned and chopped
2 stalks celery
4 cloves garlic, minced
4 medium-sized (about 2 pounds) yukon gold potatoes, diced
1 (15 oz) can Great White Northern Beans, drained and rinsed
1 bay leaf
2 sprigs fresh rosemary
1 sprig fresh thyme
1 teaspoon salt
1/4 teaspoon black pepper
1/4 teaspoon smoked paprika
6 cups low sodium vegetable or chicken broth
In a large pot, melt the butter over medium heat. Add in the leeks and celery and saute for about 6-8 minutes until soft. Stir in the garlic and cook for 2 minutes.
To the pot, add the potatoes, white beans, bay leaves, rosemary, thyme, salt, pepper, paprika and broth. Cover and bring to a boil. Stir again, then reduce to a simmer for 25 minutes, until the potatoes are softened and easily pierced with a knife.
Remove from the heat, pull out the bay leaves and rosemary and thyme stems. Then, using an immersion blender or transferring carefully to a high-speed blender, blend the soup until smooth.
Serve warm.