We say it time and time again: making your own bone broth is one of the most wonderful, healing things you can do for your body. But did you know you can also use the fat from bone broth as a wonderful healthy cooking fat? As fall settles into the air and days crawl to shorter lengths, the desire to sip wonderful brimming bowls of soup grows irresistibly. While bone broth is beautiful at anytime of the year, there is something about the golden spoonfuls and curls of aromatic steam that are particularly appealing in colder months. In the theme of traditional cooking, wherein no part of a meal goes to waste, saving the skimmed fat from the top of bone broth is also an excellent way to have yourself a truly nutrient dense cooking fat. By storing the collected fat in a small glass container, you are not only being penny savvy, but ensuring that you have an incredible source of pure animal fat to incorporate into your diet. This is especially important in the winter months when we need the rich nourishment to sustain our energy levels.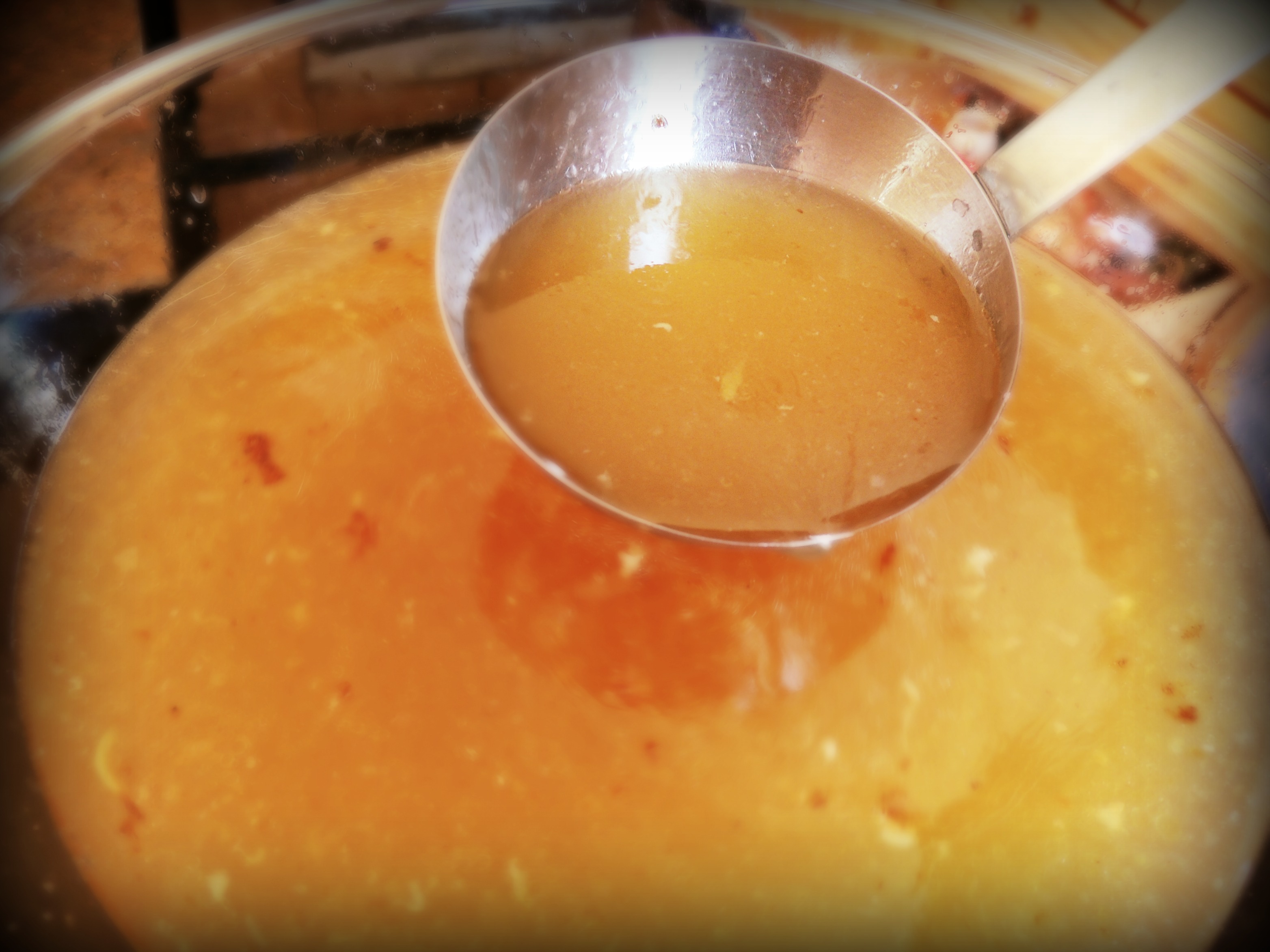 For more information on preparing your own beef broth, check out our post on nourishing homemade broth. We also enjoy the recipes from Nourishing Traditions and The Naked Foods Cookbook, which detail the proper preparation of various kinds of unique broths including those created from the bones and meat scraps of beef, duck, turkey and fish. By treating specific ingredients properly, you can ensure that a rich gelatinous broth is yielded each time you prepare it.
Once you have simmered the broth for an adequate amount of time (the time varies considerably whether using beef, fowl or fish), the bones are strained out and the remaining golden liquid transferred into a glass bowl. Chill the bowl in the freezer of refrigerator until a thin layer of whitish fat forms on the top of the now gel like broth. This fat, though some people might look at it in alarming fear and disgust, is actually wonderful for high heat cooking. It adds a rich flavor to meals and is incredibly nutrient dense.
Removing the fat is extremely simple. Using a thin flat spatula, slide it slowly across the bowl of broth, trying your best to remove only the fat. The fat readily separates from the broth if it has jelled properly. To make things easier, we usually use another spatula and scoop the fat onto a flat plate first before placing it in mason jar far for storage. Check out our video below!
Find this post on Frugal Days, Sustainable Ways