There is something wonderfully liberating about mastering the basics of making your own sauces, condiments and dressings from scratch. It's almost as though many of us have come to believe that sauces only come in jars- that they just magically appear this way or are some how impossibly complex and difficult to make in our own kitchens. Yet crafting your own signature condiments can be very simple, and it is one of the best things that you can do to avoid artificial colorings, flavoring, preservatives and rancid oils in your diet. What's more, it inspires the creative exploration of distinctive and unique flavor combinations that can transform any plain dish into something spectacular. Try this intriguing, tangy Cilantro Pesto which blends hearty cilantro leaves, rich unfiltered olive oil and pine nuts, finished with a spritz of lemon.
A Bit About Cilantro
Cilantro (coriandum sativum) is a hardy annual herb with unique tasting leaves and seeds that have been harvested for centuries to be used in both cooking and in traditional medicine practices, among other applications. Loved by many and hated by some who complain of a "soapy" taste, this herb is known by a variety of names such as cilantro, Chinese parsley, Mexican parsley and coriander. Generally in North America, the leaves are referred to as cilantro and the ground seeds of the plant known as the spice coriander. Although now widely available and liberally used in cuisine across the globe from black-bean taco dishes to fish soups, cilantro is believed to have originated in Persia and the Mediterranean. Cilantro leaves are rich in calcium, iron, carotonese and vitamin C. They also contain a natural antibacterial compound called dodecenal that has been shown useful in preventing certain infections. Among its other useful effects, cilantro acts as a natural anti-inflammatory, and promotes healthy digestion by supporting the production of enzymes. The interesting-tasting herb experienced a rise in popularity in the health community when Japanese investigator Yoshiaki Omura discovered that cilantro also has a notable detoxifying effect on the body. Delicious fresh green cilantro works as a heavy metal chelator, mobilizing mercury and other toxic metals from the central nervous system for excretion. It is of note that dried cilantro does not maintain this quality, so it is important to select fresh organic cilantro whenever possible. Cilantro also grows wonderfully as a potted herb along with mint, chives and parsley.
Olive Oil: It might not be what you think...
If you have ever picked up jarred sauces, dressings or condiments at the store, you will realize that most of them contain refined vegetable oils such as sunflower, canola and soybean oil. Often genetically modified, deodorized and rancid, these cheap oils are high in unstable polyunsaturated fatty acids, nutrient bereft and free-radical generating. Unfortunately, even if you stumble across a product that has "olive oil" listed on the label, this does not necessarily mean that pure olive oil was used. Far from the family farm-based, stone-ground olive oils of old, most commercially available olive oils are now deodorized and refined, and mixed with assortment of cheaper nut, seed and vegetable oils. A recent report by the University of California Davis found that 69% of imported olive oils completely failed international purity standards. When making your own sauces, find oils from reliable sources that are organic, cold-pressed and properly packaged. This can be difficult with all of the products out there, but there are some simple tricks to finding the best olive oils. All of our healthy fats and oils have been subject to rigorous standards and regulations to offer you only the best products. We enjoy Bariani Olive Oil- unfiltered, extra virgin, raw and gauranteed 100% olive oil that is sourced directly from the family farm.
Delicious Cilantro Pesto
Although not as commonly used in standard American food, cilantro pesto actually has deeper roots in the Mediterranean than the popular basil version. Perfect as a garnish for meats, tossed with vegetables, piled on spaghetti squash, or as a side with eggs, this cilantro pesto is brightly flavored, creamy and totally delicious. Some experts have even suggested that it would be beneficial to include a few tablespoons cilantro pesto into the diet for it's anti-inflammatory and detoxifying effects. And the best part: it only takes about 5 minutes to make!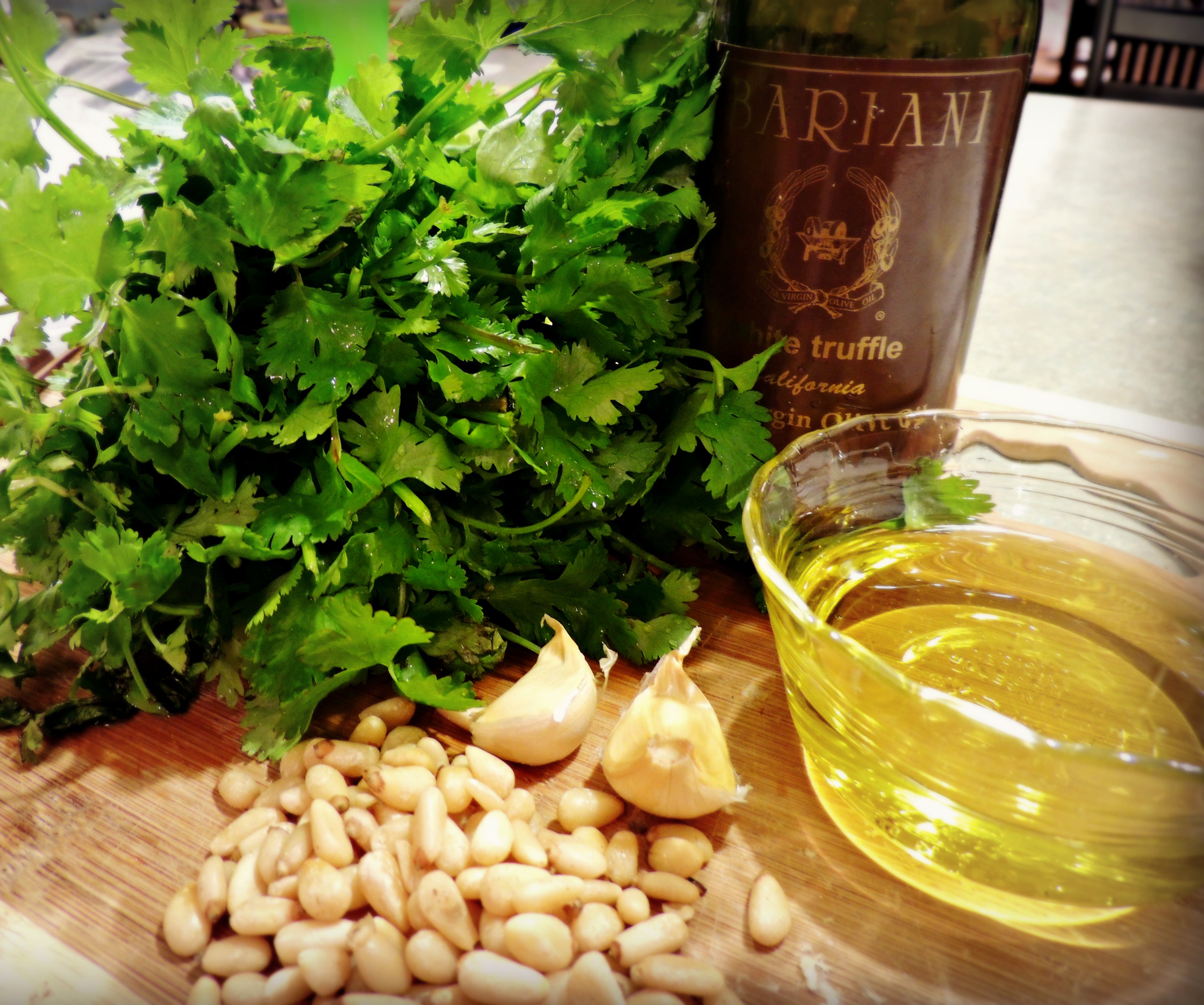 Makes approximately 1 1/2 cups
3 cups or one large bunch fresh cilantro, washed and dried
1/2 cup sprouted pine nuts, sprouted cashews or sprouted walnuts
1/2 cup unfiltered extra virgin olive oil
1-2 cloves garlic
Juice from 1/2 lemon
Add all ingredients to food processor and blend until smooth. Pesto will keep in a well sealed container in the refrigerator for several days, or is easily frozen for later use.
Resources
Nourishing Traditions by Sally Fallon
Imported "extra virgin olive oil" by UC Davis Olive Center
The Curious Cook: Cilantro Haters, It's Not Your Fault
Detoxify Heavy Metals and Soothe Chronic Inflammation with Cilantro