Gluten-free does not necessarily mean good. Contrary to what the crafty marketers of gluten-free products would lead us to believe, just because something lacks gluten does not mean that it is a "health food." With the gluten-free food market predicted to reach heights of $5 billion dollars annually by 2015, companies are scrambling to concoct the most palatable pseudo-breads, alternative noodles and fake cupcakes they can...even if that means adding questionable chemicals, cheap oils and artificial flavorings. So next time, instead of reaching for that dry factory made gluten-free bread, try a slice from a moist, fresh-baked loaf made from organic coconut flour and heaping with golden homemade butter! Did I mention that this whole food bread is inexpensive, quick to make and only requires 6 ingredients? Simple gluten-free baking at its best.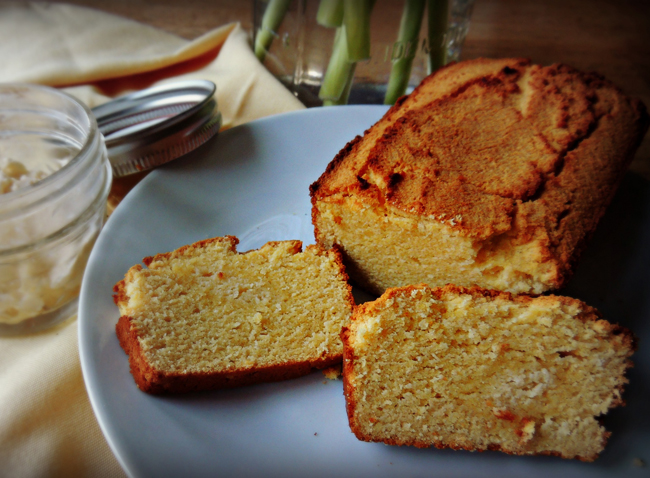 Gluten-Free: The best thing since sliced bread?
The story of gluten is being told everywhere these days, in the complex text of esteemed scientific journals to the bright pink fonts of "glutenista" social media. Put simply, the protein gluten, as found primarily in wheat and other cereal grains, is irritating and potentially hazardous to the human gut and autoimmune system. This vexing anti-nutrient must be appropriately neutralized by soaking and sprouting, or avoided completely by those with gluten intolerance and celiac disease. Yet, in all this hype about eliminating gluten from the diet, it is important to remember that it is not okay to swap gluten out and replace it with other damaging food toxins.
With 20% of the new packaged snacks introduced to U.S. grocery stores last year proudly carrying the stamp of "gluten-free," many people are avoiding infamous gluten by chomping away at a bizarre assortment of oddly concocted processed goods in the name of health. Next time you are at the grocery store, go on an undercover mission to scope out the gluten-free breads. Most of them are kept sealed up in the freezer section, away from the normal breads where they are "specially" marked with outrageous prices (the average for a 14-oz loaf is $6.50 by the way) and tied up neatly in appealing packaging. The most popular gluten-free breads have upwards of 25 different ingredients in just one loaf including such questionable items as: fruit juice concentrate, corn syrup, artificial coloring, vegetable oil, evaporated cane juice, "mold suppressants" and citric acid, among other unrecognizable compounds. Rancid oils, refined sugars and synthetic flavors are damaging to the gut, free-radical creating and can be very addictive. Not to mention, most factory made breads are processed at high heat and loaded with emulsifiers to expedite production. While gluten-free breads can be tempting in both convenience and taste, it is important to be aware of just what you are consuming and make informed choices that best support your goals.
Homemade Organic Coconut Flour Bread
If you have ever tried to make gluten-free breads at home before, you know what it can be like. Clamoring around with measuring cups, shuffling a bunch of flours and gums and sweeteners and starches in circles around the counter, it often feels more like an expensive science experiment than quaint home-baking. This recipe for coconut flour bread is simple, with just 6 recognizable, quality ingredients. Because coconut flour is higher in fiber, protein and fat than other wheat alternatives, it delivers a unique, spongy texture that lends itself well to quick breads and muffins. Coconut flour is very dense and absorptive, meaning that a little goes a long way and a high proportion of liquid ingredients are needed in recipes. If you are new to cooking with coconut flour, brief yourself on the health benefits of coconut flour and tips for cooking with coconut flour for optimal results. For more creative and scrumptious recipes like this one, check out Cooking with Coconut Flour by Dr. Bruce Fife.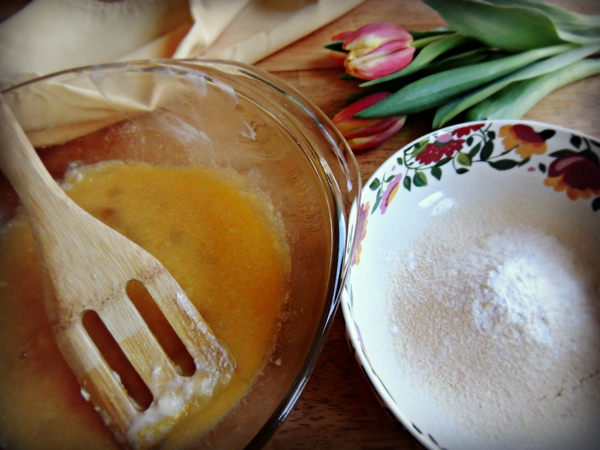 By Kayla- Radiant Life
Makes 1 small loaf
Ingredients
6 Pastured eggs
2 tbsp raw honey
1/2 cup grassfed ghee, coconut oil or butter*, melted
1/2 tsp celtic sea salt
3/4 cup organic coconut flour, sifted
1 tsp aluminum-free baking powder
Directions
Preheat oven to 350 degrees F. In a medium-sized bowl mix eggs, ghee*, honey and sea salt until well-blended. Combine sifted coconut flour and baking powder, and whisk them slowly into the batter until no lumps remain. Spoon the batter into a small greased loaf pan (9x5x3 or smaller). Bake for about 40 minutes. Remove from pan and cool on rack.
This unsweetened bread can be sliced and enjoyed much like many other bread. Because it lacks gluten and doesn't contain yeast, it has a different texture and taste than wheat breads. This recipe can be doubled for a larger loaf, or divided into 2 smaller loaf pans for a nice tea bread.

You may also like: