Sometimes you find a dip that is just so good you can't stop scooping up a dollop of it, savoring it right from the tip of the spoon or licking it off your fingers...despite what your manners warn. This fresh tapenade- a healthful blend of rich oils, tangy fresh herbs and creamy pine nuts, complemented with the salty flare of kalamata olives- is one of those simple culinary marvels. With a complex layering of flavors and divinely smooth texture, this lively dip is nearly effortless to make (it takes about 5 minutes) and unparalleled in freshness. Borrowed from the rich traditional cuisine of the Mediterranean, it also boasts of all the health benefits pure, unfiltered olive oil has to offer including a wide variety of phytonutrients and antioxidants, as well as delicate fatty acids in their complete synergistic form.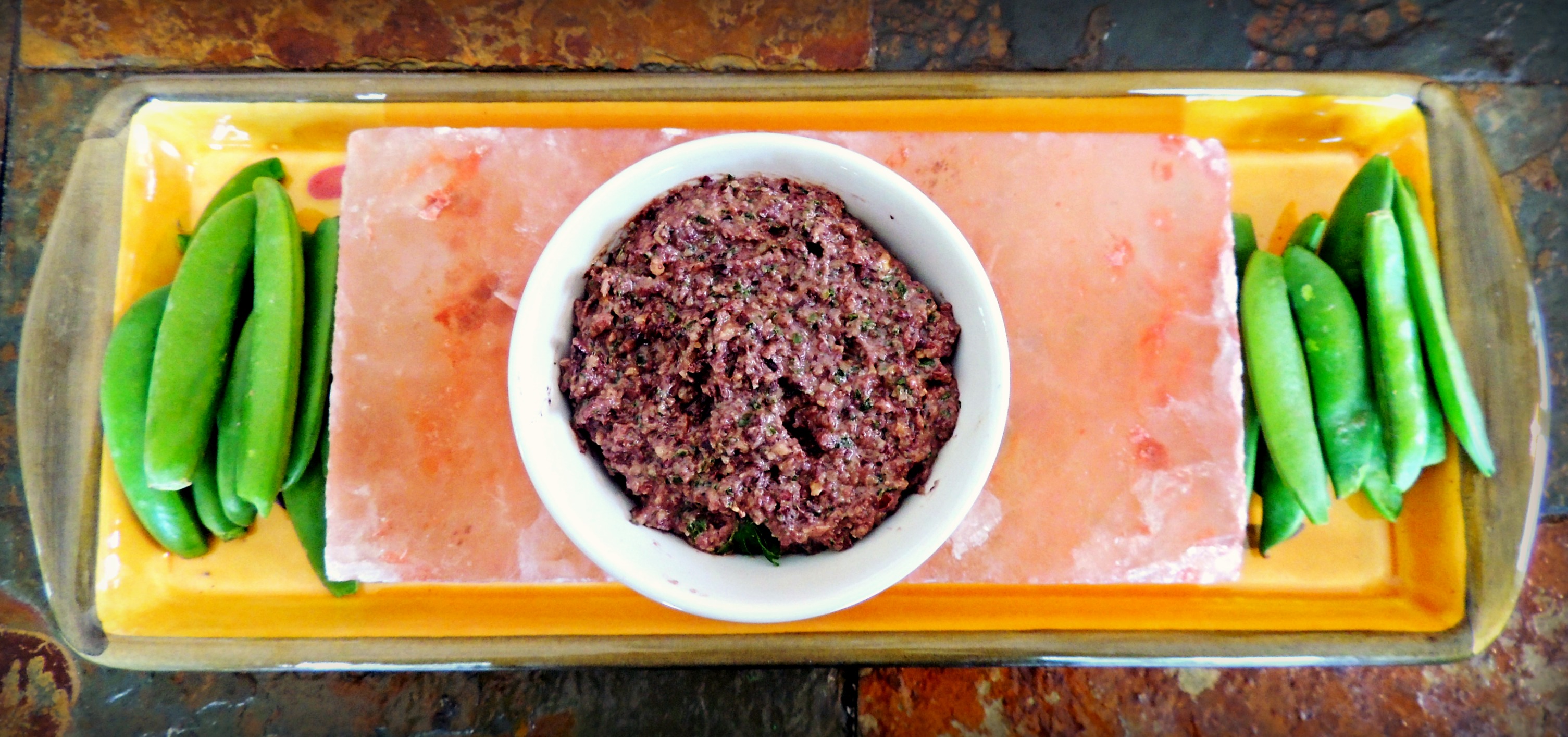 Extra Virgin Olive Oil at Its Best
With it's highly palatable taste and wide availability, nearly everyone has heard about olive oil's heart helping, cholesterol lowering, blood sugar regulating properties. Olive oil is popularly used in cooking- drizzled in the pan as a base for quick, hearty sautés or slathering over veggies for roasting. However what many people don't realize is that this powerhouse plant oil is really best featured in dips and salad dressings where its 200 plus beneficial compounds and complex fatty acids can be enjoyed in the raw. Olive oil is unique for its high amount of very stable long-chain monounsaturated fats in the form of oleic acid (75%). Yet it is also of note that olive oil contains omega-3s (2%) and omega-6s (10%). While essential, these polyunsaturated fatty acids are readily denatured by heat and oxidize rapidly on storage. The valuable polyphenols in olive oil like reparative hydroxtyrosol (HT) and antioxidants such as beta-carotene and vitamin E are also sensitive to temperature. Thus for high-heat cooking, highly saturated fats like butter, lard, extra virgin coconut oil, red palm oil and grassfed ghee are more favorable everyday options. Reserve unfiltered olive oil for condiments and on occasions when its unique flavor best compliments the meal. Because really who can resist a robust homemade tomato sauce, pot roast or hearty beef stew without a drizzle of this delicious oil?
I've said it before and I will say it again, just because I think that this is one of the greatest real food hoaxes going: your olive oil is only as good as the olives that were used to create it, and the conditions under which it was created and kept. Unfortunately, most of the "extra virgin olive oil" you find in stores is not the real thing- even the organic kinds that come in fancy dark glass bottles. Because the markets in the United States and Italy are largely unregulated, manufacturers have found numerous cunning ways to adulterate the product including blending it with unstable vegetable oils like soybean oil or canola oil, or using rotting olives and then deodorizing the final product to neutralize the rank smell. According to olive oil industry expert Tom Mueller, author of Extra Virginity: The Sublime and Scandalous World of Olive Oil, the very worst of the stuff goes into industrial food where it lurks unnoticed. "There's a river of rotten oil going into food service," he recently stated. "The big companies are selling things that are not even olive oil." Just one more reason to steer clear of jarred sauces and dips- you just really don't know what kinds of rancid infusions you are going to get. It is also helpful to know key phrases to look out for on oil labels, and to be able to identify the aroma, fragrances and look of pure, unfiltered olive oil. I prefer to use Bariani Olive Oil, which I know is sourced and pressed directly at the organic family orchard. Hand-harvested, stone crushed, cold-pressed, decanted and unfiltered: this is the way olive oil should be.
Soaked and Dried Pine Nuts
Another key player in this recipe is pine nuts, which give the dip its irresistibly creamy texture. Pine nuts, like many other nuts and seeds, are best when soaked overnight in a salty medium and dried to neutralize tricky anti-nutrients and enzyme inhibitors. Follow the instructions below to soak and dry your pine nuts prior to using, or use a trusted source of soaked and sprouted organic pine nuts.
4 cups of raw pine nuts
1 tablespoon unrefined sea salt or himalayan salt
filtered water
Place pine nuts in a large glass bowl. Dissolve salt in filtered water, and pour enough water over nuts to completely cover. Allow to soak for about 7 hours, or overnight. Drain water and spread nuts on a tray of your dehydrator, and let dry for 12-24 hours or until slightly crisp. If you do not have a dehydrator, you can also place soaked nuts on a cooking sheet and place in the oven at a temperature no warmer than 150° F (you may have to get out your oven manual and adjust the lowest temperature setting down- most ovens come preset at 170-200° F).
Hearty Kalamata Tapenade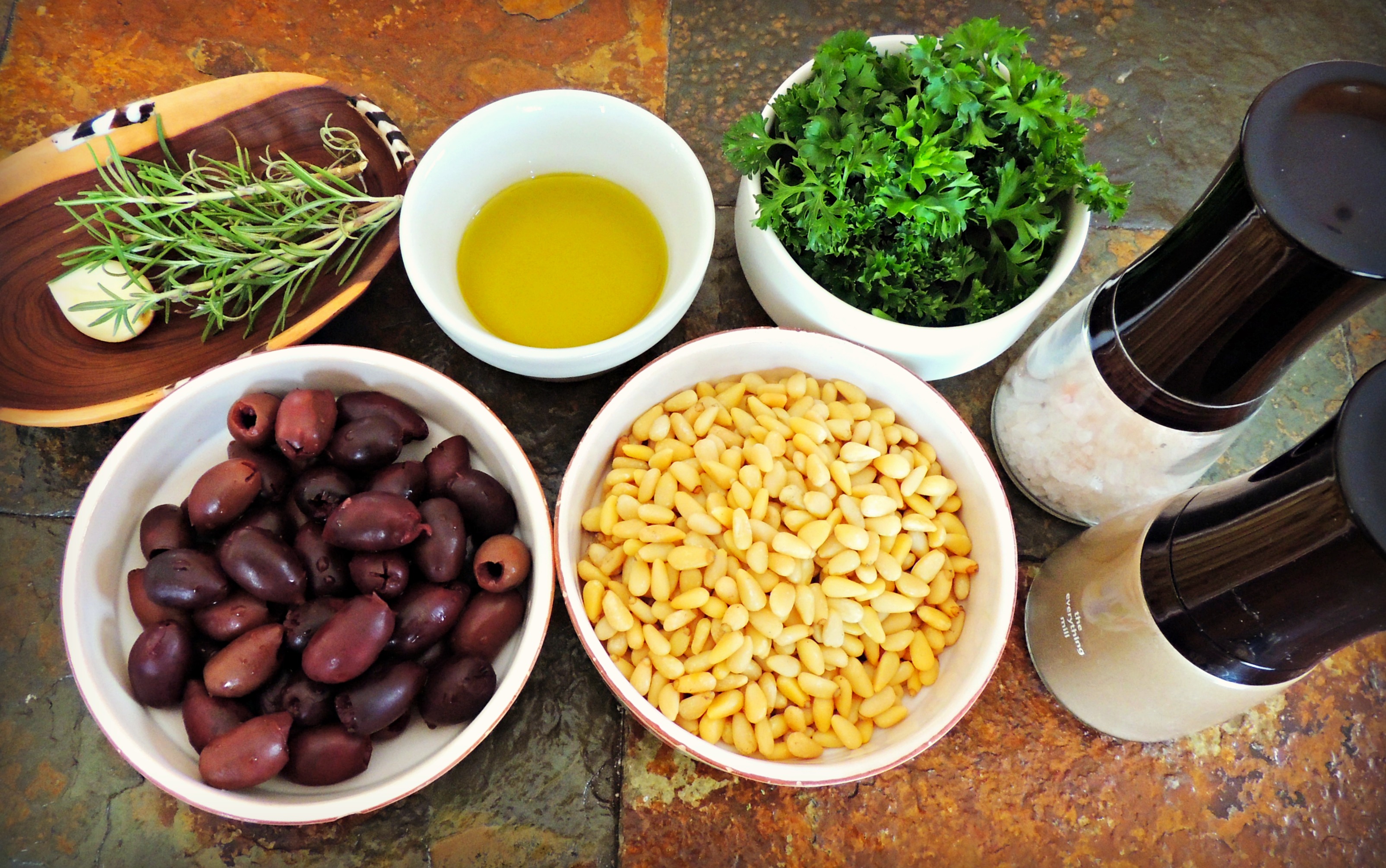 Ingredients:
1 cup pitted kalamata olives
1 cup soaked and dried pine nuts
1/4 cup unfiltered olive oil
1-2 cloves fresh garlic
1 cup fresh parsley
3-4 sprigs fresh rosemary or about 1 tsp dried
Add garlic to food processor, blend until minced. Add all other ingredients except for olive oil. Process until smooth. While blade is still running, slowly drizzle in olive oil.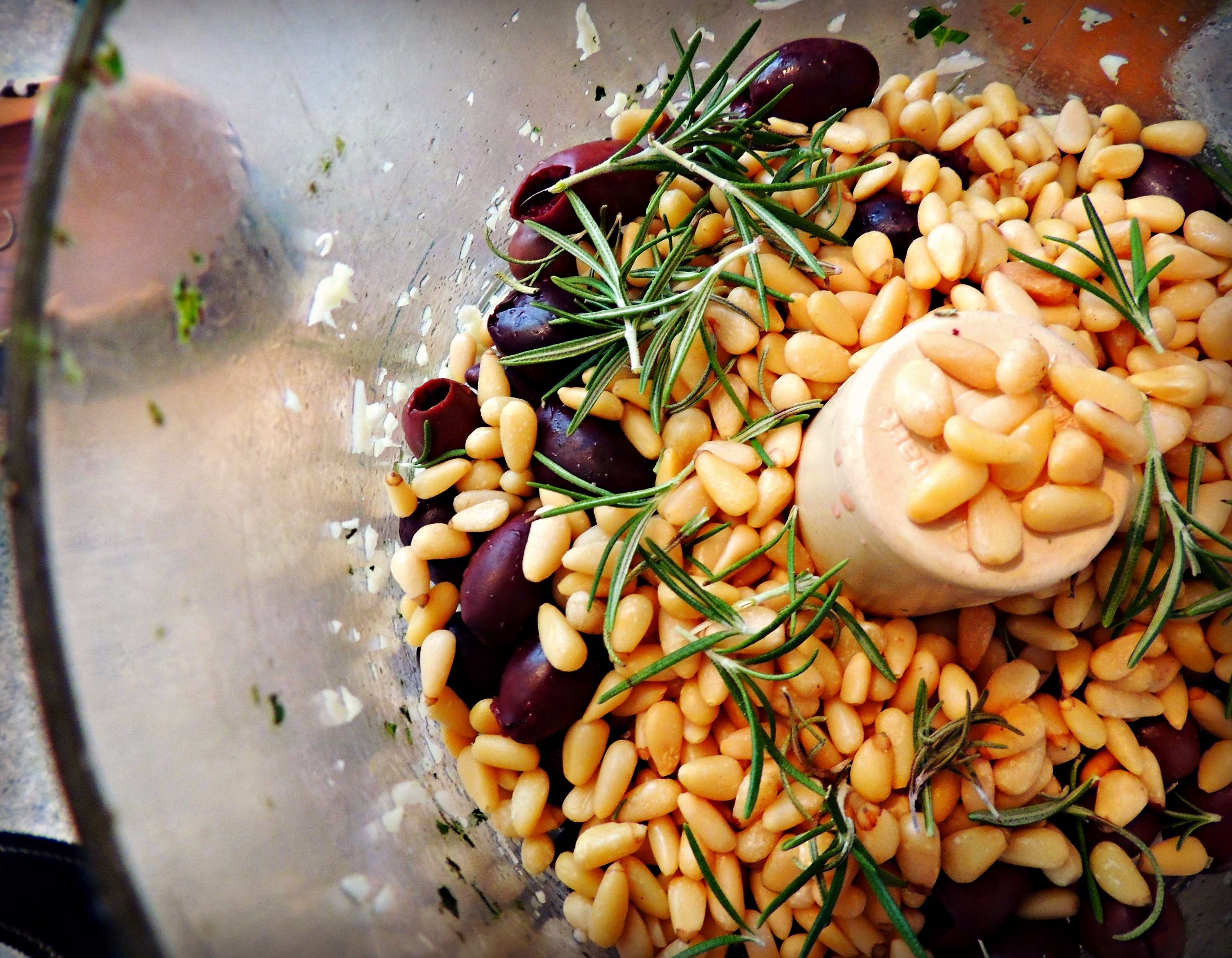 Serve at room temperature with fresh organic veggies or your favorite homemade cracker.
Have fun and experiment with adjusting the ingredients to your liking! Try more parsley or nuts to decrease the natural salty flavor of the olives, more oil for a smoother texture or use different herbs like sage or basil for a whole new twist. If you are really feeling bold, you can even try adding in some dried anchovies for a boost of protein and minerals!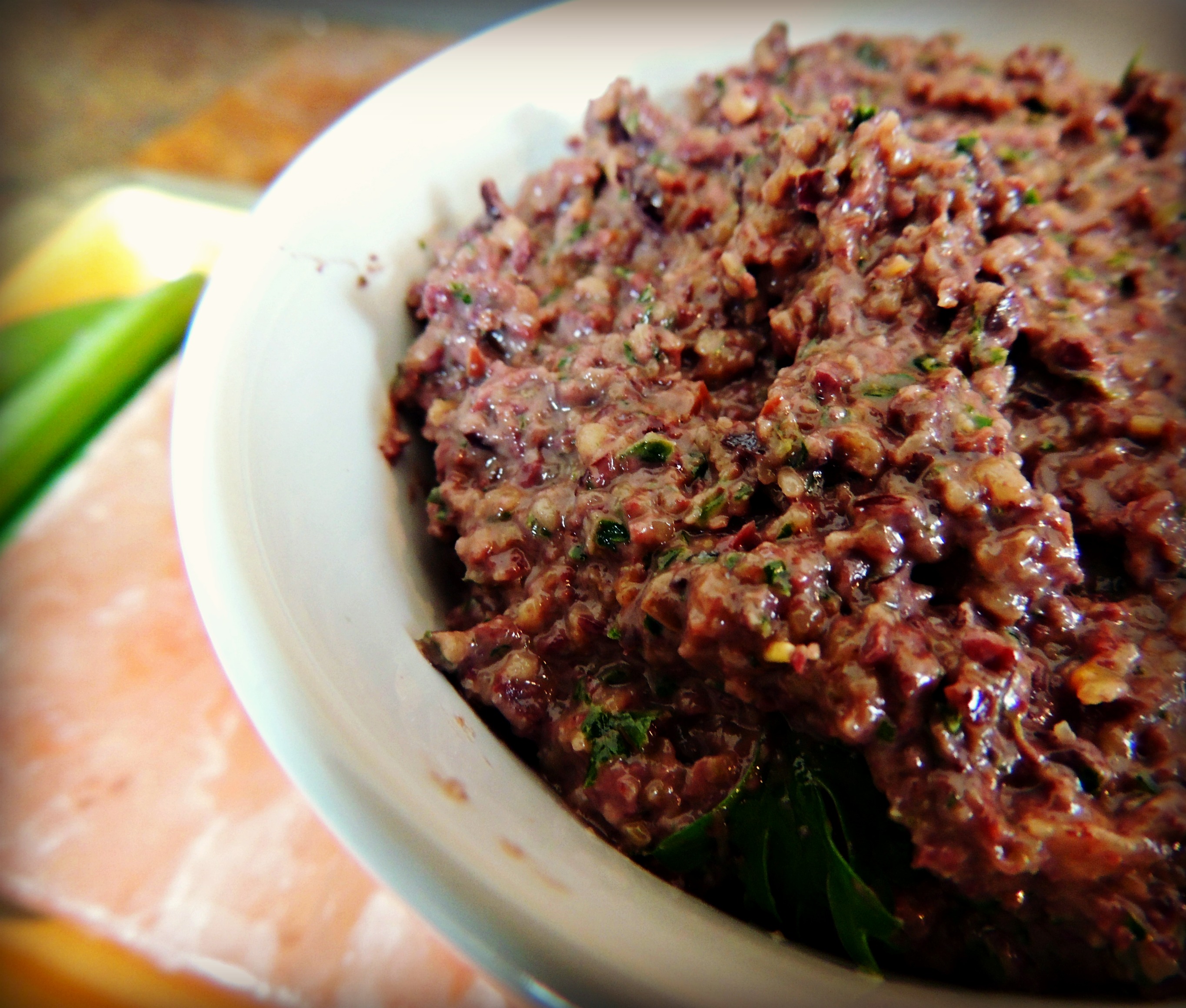 Learn More:
Your Extra-Virgin Olive Oil is Fake
Imported "extra virgin olive oil" by UC Davis Olive Center
The Great Olive Oil Hoax: Your extra virgin may not be so pure