If there is one food that is the very most difficult to let go of when transitioning to a gluten- or grain-free diet, it is probably bread. Delicious, wonderful, chewy, tender, sink-your-teeth-in-and-enjoy-it bread. In a society where sensational sandwich duos such as peanut butter & jelly and turkey & cheese dominate lunch time, things can certainly become complicated when you don't have a dense and delicious loaf to stack your fillings on. Creating on-the-go breadless lunches can take a lot of creativity, about a million different reusable containers and of course, enough detailed planning so as not to forget utensils or napkins along the way. This became quite clear to me as I scrambled to whip something together for our flight to Atlanta for the Ancestral Health Symposium earlier this week. Just before leaving, I tried out this revolutionary little recipe and was pleasantly surprised. Using just five ingredients, this versatile grain-free flatbread can be used to pull together impressive meals at any time of the day.
Flatbreads of different varieties have been used in traditional cultures for thousands of years. Known as roti, naan, lavash, pita, torta, frybread, wraps and countless other names,
such unleavened breads have been historically treasured for their practical, relatively simple preparation and the convenience they afford in packing for travel. Nowadays, in the restaurant world, these functional breads have come back around in popularity. In many commercial chains they are being advertised as a novelty- an exciting twist to the classic psuedo-egg sandwich, a new companion to that coveted meekly warmed meat patty. If you take it so far as to smoosh some wilted veggies between a flatbread, you have yourself an "artisan" or "bistro-style" sandwich. Impressive right? One fast food executive certainly thought so. This representative was recently quoted saying:
"We're redefining the way consumers eat grilled chicken, with a multigrain artisan flatbread that has superior quality and taste. The flatbread adds flavor, texture and excitement to grilled chicken, creating a bold, distinctive taste you can't find anywhere else" (1).
Of course, this statement would be far more correct if they were actually serving real grilled chicken, but that's beside the point. So what is so very "unique" about these flatbreads? Here's an example of a list of ingredients from a flatbread:
Enriched Wheat Flour [Wheat Flour, Malted Barley Flour, Niacin, Reduced Iron, Thiamine Mononitrate (Vitamin B1), Riboflavin (Vitamin B2), Folic Acid], Water, Grains (Whole Wheat Flour, Oat Flour, Yellow Corn Flour, Rye Flour, Buckwheat Flour, Rice Flour, Spelt Flour, Toasted Sesame Seeds, Millet, Flax Seeds, Poppy Seeds, Sugar), Soybean Oil, Yeast, Contains 2 percent or less of: Salt, Cracked Whole Wheat, Baking Powder (Sodium Bicarbonate, Sodium Acid Pyrophosphate, Monocalcium Phosphate), Nonfat Dry Milk, Dough Conditioner (Calcium Sulfate, Guar Gum, Vegetable Mono and Diglycerides, L-Cysteine, Calcium Peroxide, Enzymes), Yeast Nutrients (Ammonium Sulfate, Ascorbic Acid, Azodicarbonamide), Calcium Propionate and Potassium Sorbate (Preservatives)
Ingredient total: 40. Something I want to eat? NO.
Organic Sweet Potato Flatbread
Enter the gloriously simple whole food version: a scrumptious gluten- and grain-free flatbread crafted from nutrient dense ingredients from our friend Lauren over at Empowered Sustenance. At the heart and soul of this bread is sweet potatoes, which are naturally rich in iron, potassium, niacin, and vitamin C. They also contain useful fiber, vitamin B6, magnesium, and are the richest source of antioxidant beta carotene, thus requiring no crazy chemicals or synthetic additives. Also crucial to the success of these breads is bovine gelatin, which contributes to the texture and pliability, as well as adding a component of digestive ease and mineral boost. Finished with a dash of coconut flour and healthy fats, these flatbreads are not just a vehicle on which to eat your sandwich fixin's, but rather a nutrient rich part of the meal!
Ingredients
1 tbsp organic coconut flour
1 1/2 tsp bovine gelatin
3 tbsp baked sweet potato, mashed
1 tbsp coconut oil, grass-fed ghee or butter
1 pastured egg
1/4 teaspoon unrefined salt
1. Preheat oven to 400 degrees. Bring all ingredients to room temperature (you may need to put them out on the counter for a little bit prior to starting).
2. In a small bowl, mix coconut flour and gelatin.
3. Using a separate bowl blend mashed sweet potato and choice of softened butter, ghee or coconut oil until evenly mixed.
4. Slowly sprinkle flour/gelatin mixture in with the potato mixture, stirring until combined. Add egg and sea salt to taste.
5. Line a baking sheet with parchment paper. Spoon out dough into 5 rounds at about 1/4 inch thick each. Smooth over the tops with the back of the spoon.
6. Place in oven for about 12 minutes. After this time, remove and gently peel the bread from the parchment paper, flipping the flatbread over. Bake for another 5 minutes or so until they are dry to the touch.
These breads are best enjoyed about an hour after they have come out of the oven, however they can certainly be stored for later if need be. Here are some of my very favorite ways to use them: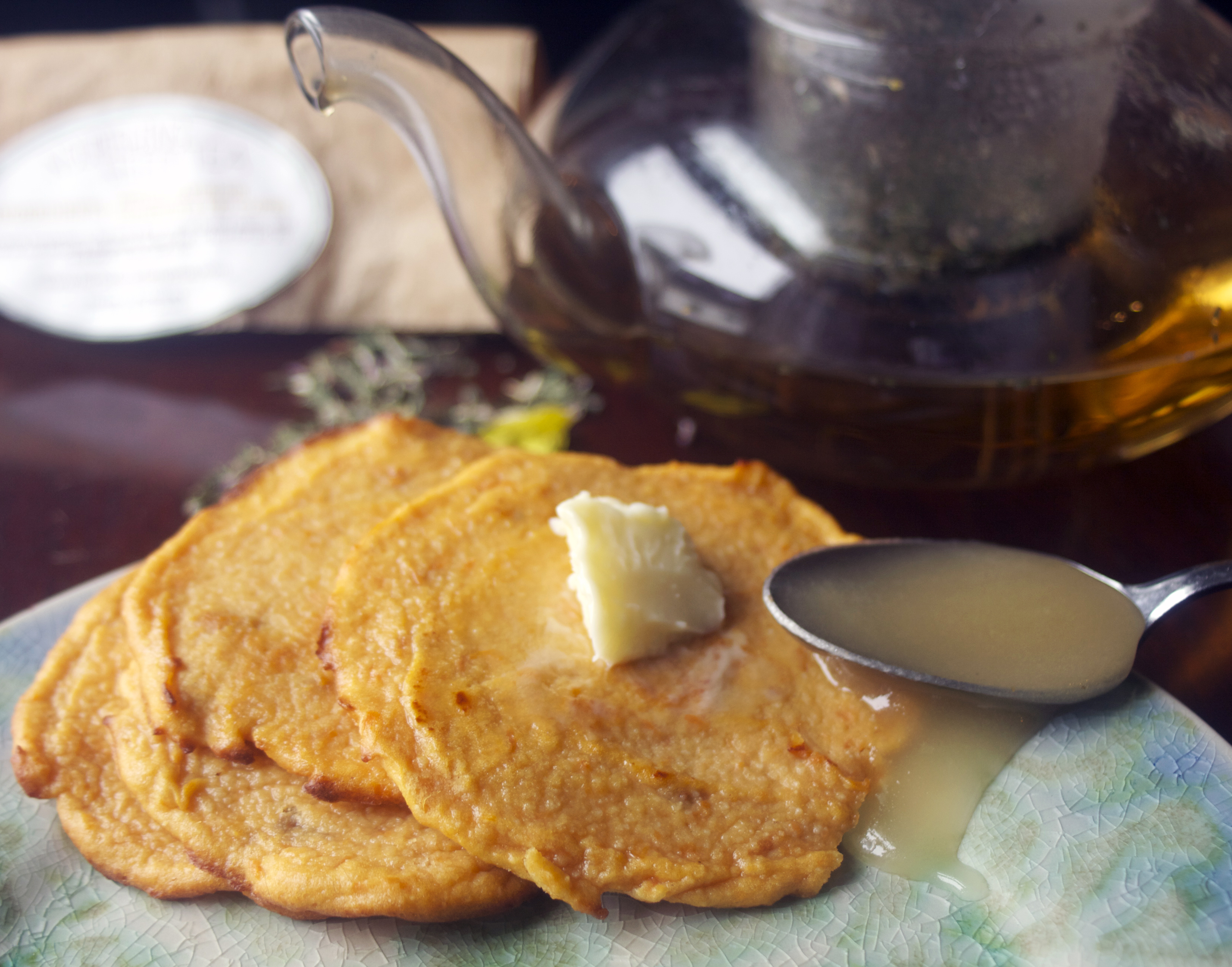 Enjoy with a spot of herbal tea and spoonful of raw honey for a charming breakfast or afternoon snack.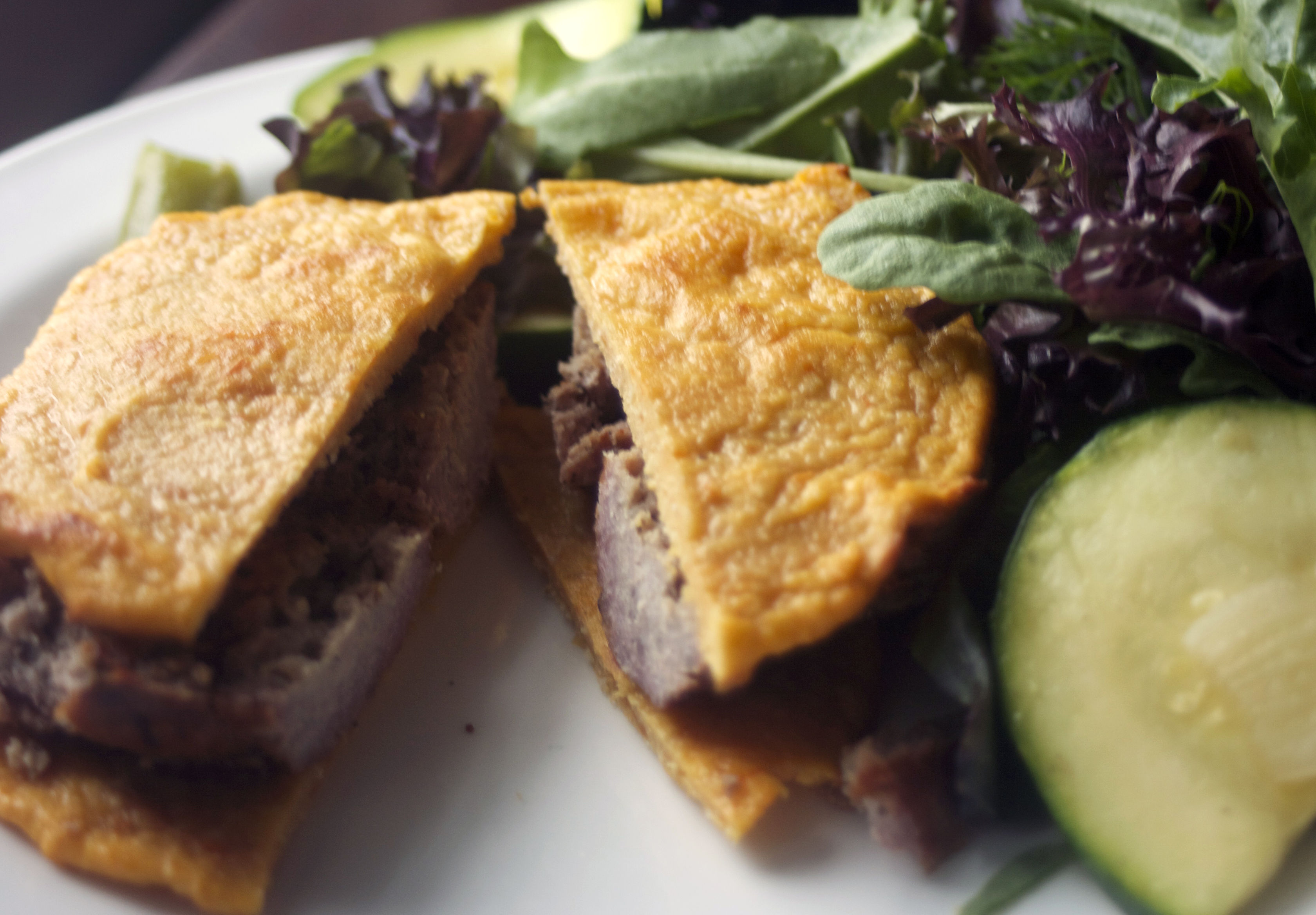 Make a sandwich with delicious pasture-raised meat, avocado and fresh greens for a quick balanced meal.