I woke yesterday to a crisp blue morning and could taste fall in the air. A breeze was winding through my window, billowing out the curtains in a long sigh, and the floor felt cool as I touched it with my bare toes. While the skillet warmed on the stove for bacon, I couldn't help but find a bulky sweater to pull over my shoulders. Around here this vibrant season has certainly been making its presence known. And what better way to celebrate than with a soul-warming apple crisp? That is, one that is grain-free and nutrient-dense, of course...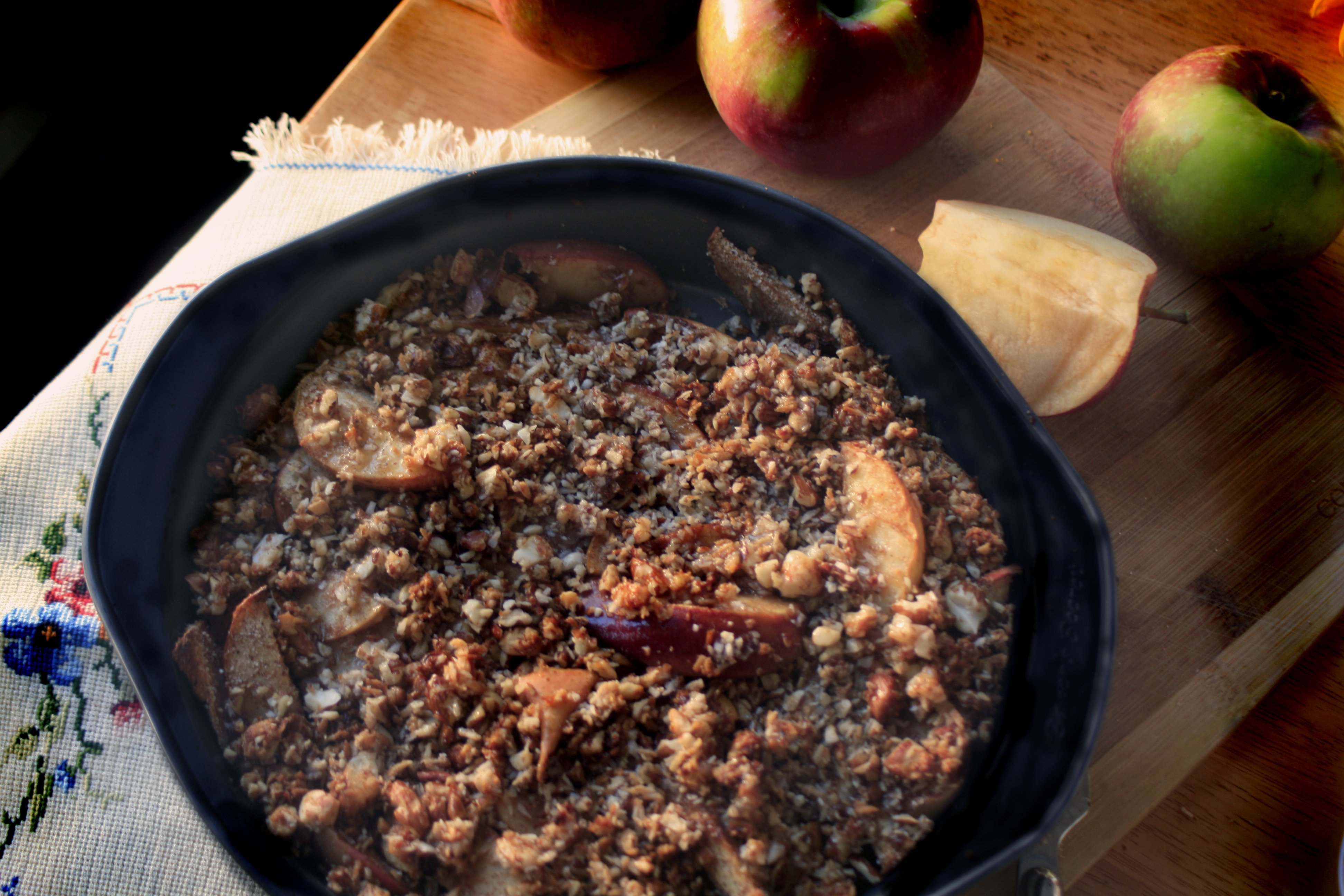 Apple crisp is simply delightful. The warmth of cinnamon mingling with dripping butter and finished with the tartness of fresh-picked apples—there is no other combination quite like it. It is truly best savored after a day spent in the apple orchard- climbing up the scraggly trees and running up and down the rows with a sturdy bag full of fruit in tow. However, with a scoop of homemade vanilla ice cream or raw whipped cream melting nicely on top, this dessert could really be eaten most any day of the year. If you are partial to raw yogurt, it can even be enjoyed as a nutrient rich breakfast. Lucky for us, there is a local organic orchard nearby- so we had some fun gathering up the fresh apples.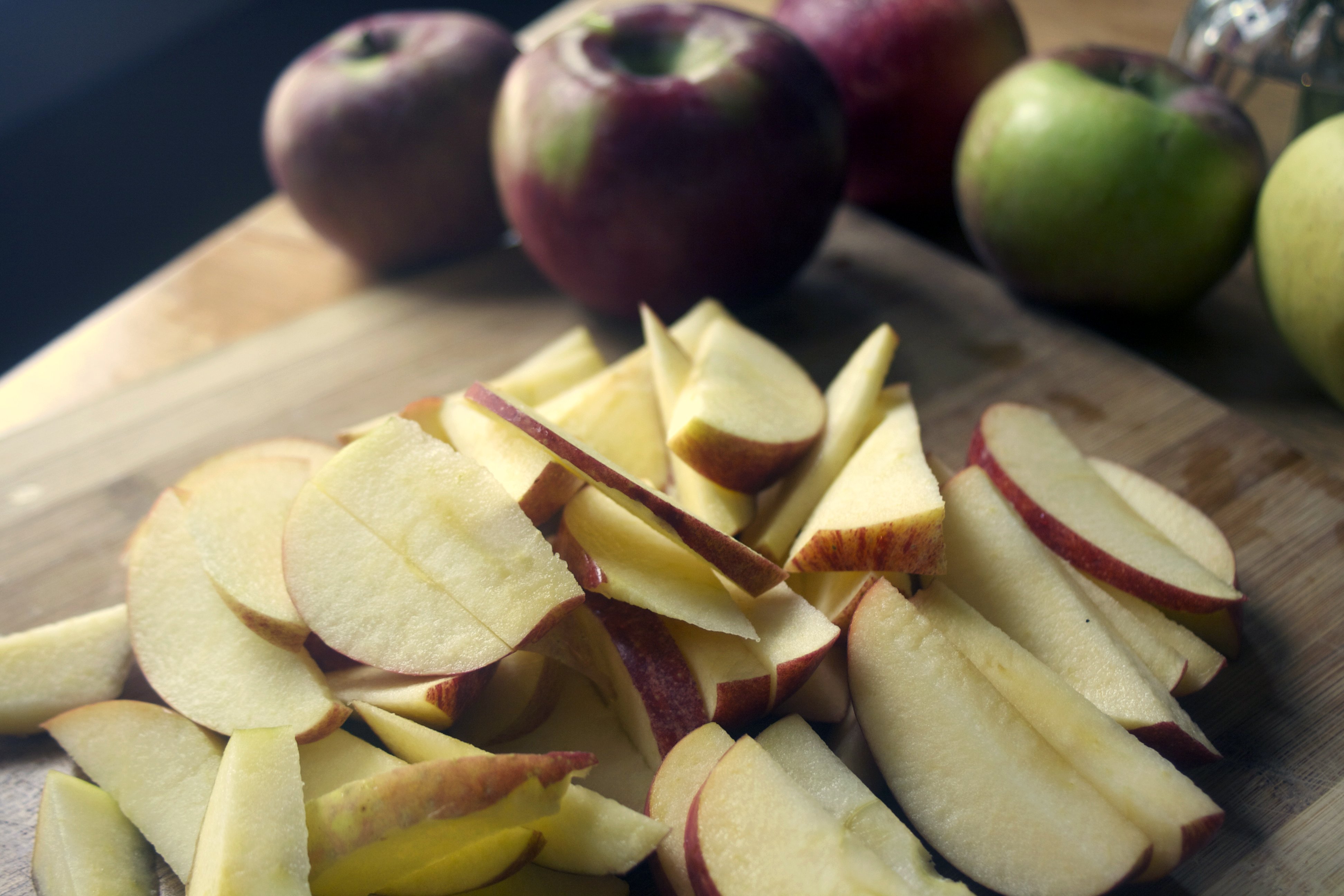 Unfortunately, most recipes for classic apple crisp are covered with heaps of brown sugar and tossed in all-purpose flour; not such a desirable mix for those looking to eliminate gluten and refined sweeteners from their diet.
A quick search on the internet will churn up hundreds of recipes for gluten-free apple crisp. But as we well know, "gluten-free" does not always mean good. Thus, despite my most ardent clicking and scrolling, I couldn't find a recipe that quite captured the magic of apple crisp as I remember it, without sacrificing some ingredient quality. So, I stubbornly set out determined to create my own version with nutrient dense whole foods and nothing else.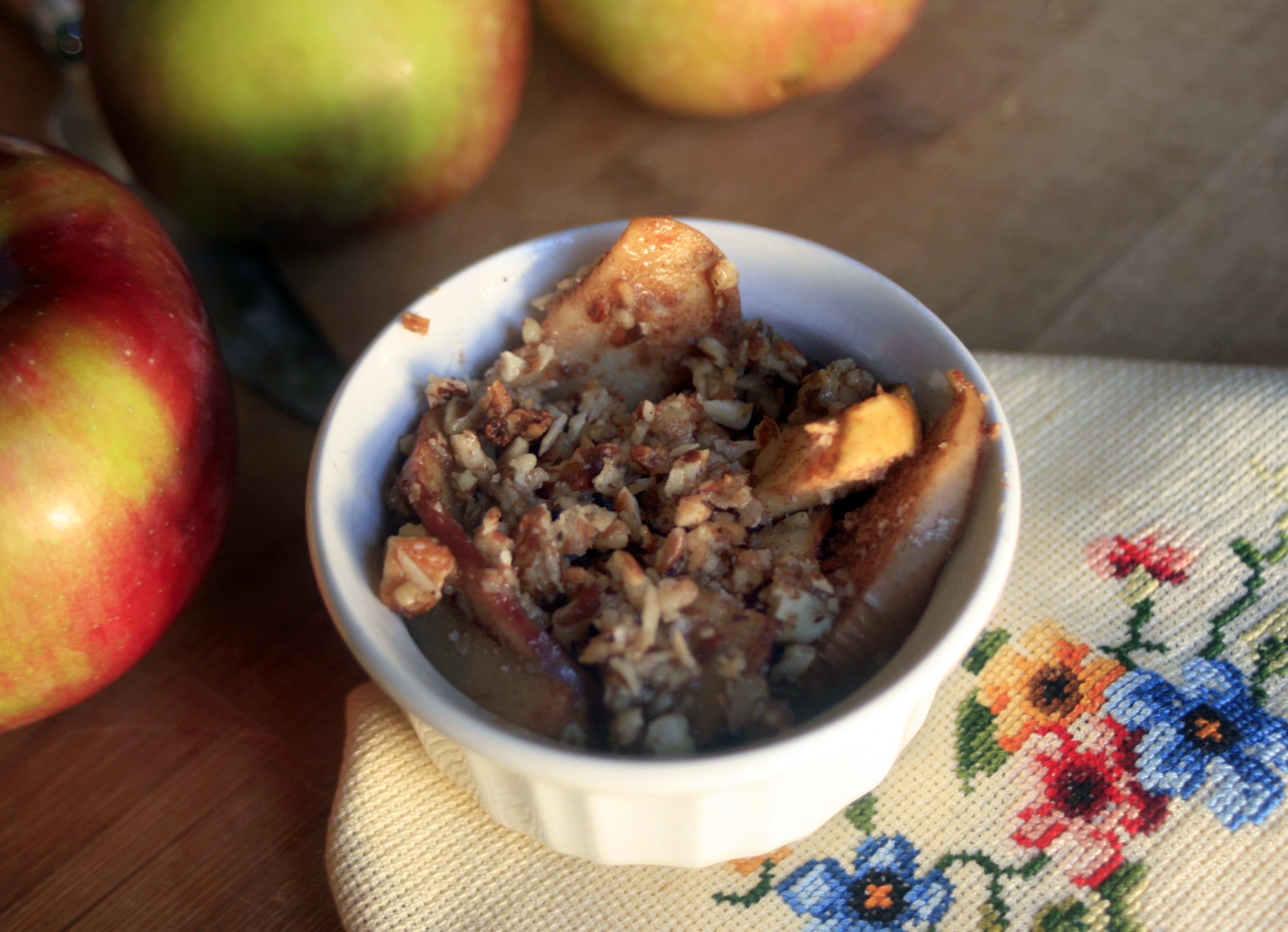 This original apple crisp recipe uses sprouted nuts, coconut, raw honey and a dash of spices to create a savory topping that tastes amazing sprinkled over baked apples. It might not be exactly like the traditional, but it is certainly everything that I look for: deep fall flavors, gratifying texture with a bit of crunch and just enough sweetness to satisfy. Nothing processed, nothing artificial: just pure natural goodness.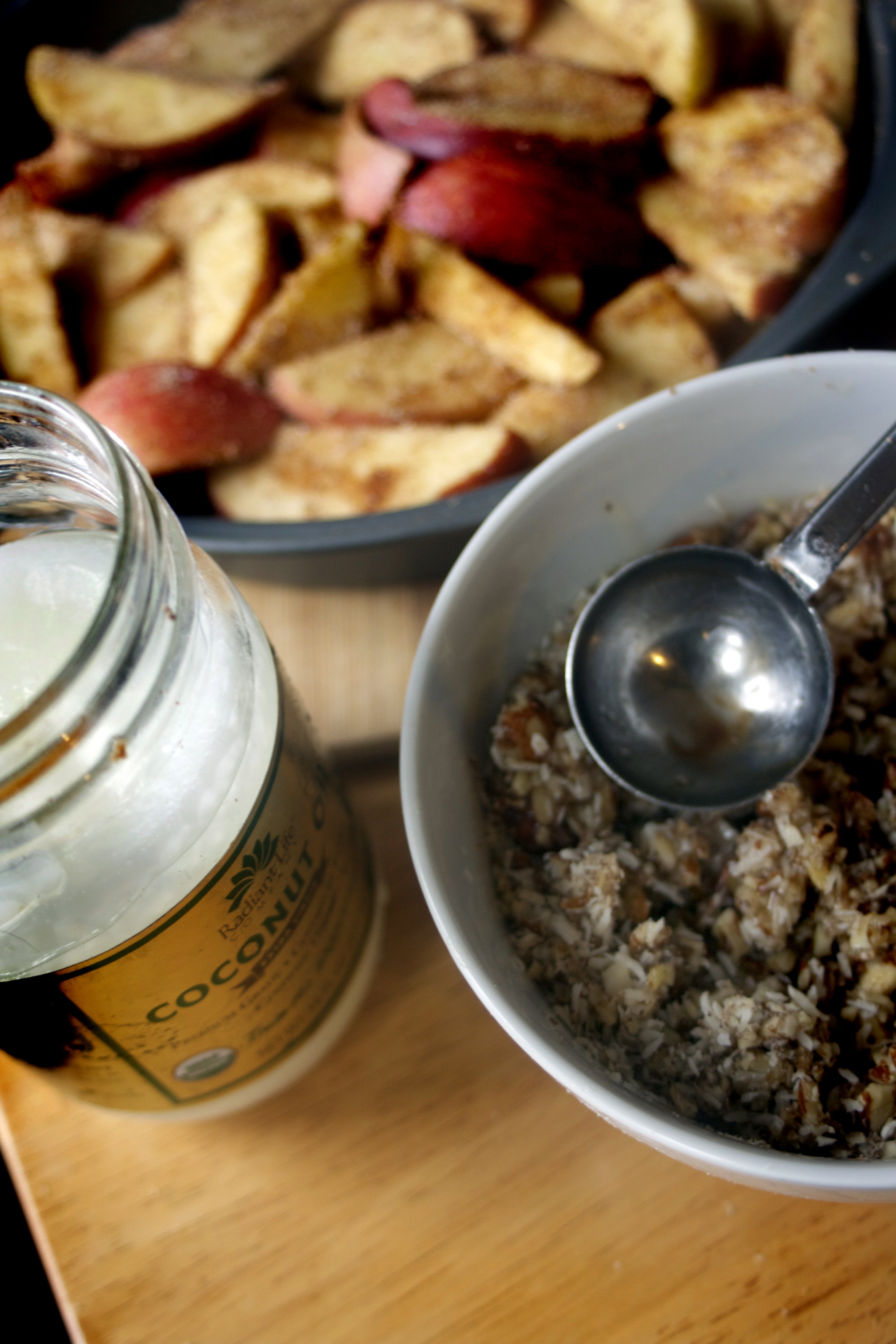 Because we are all used to different amounts of sweetness, you can easily adjust the amount of honey in the recipe to your liking. If you have a sweet tooth, you can also add 1/4 tsp of stevia in with the apples prior to baking.
It is also worth noting that apples are consistently ranked number one on the EWG's Dirty Dozen for most pesticide-ridden produce. Try your best to find a source of organic apples so that this dessert remains clean, healthful and not full of unwanted ingredients.
You can also use any type of nut you may have on hand for the topping. Remember however, that nuts and seeds of all kinds contain natural compounds called phytates that can bind important minerals, inhibit the activity of enzymes and cause irritation to the digestive tract in their raw form. Traditional methods of soaking and low-temperature dehydrating work to neutralize such anti-nutrients and make nuts more tolerable overall.
If you are new to soaking nuts, visit page 513-516 of Nourishing Traditions, or see my post on how to make sprouted nuts. Although the amount of salt used and length of soak time vary slightly
by variety of nut, the overall the process can be adapted to suit any type of nut you decide to use. Alternatively, you can find high quality organic nuts that have already been carefully soaked and sprouted for you by reputable groups such as the folks over at Blue Mountain Organics.
Grain-Free Apple Crisp
Ingredients
Filling:
5 large organic apples
1 tbsp coconut flour
1 tbsp cinnamon
1/2 tsp nutmeg
Topping:
1 cup sprouted nuts of your choice (pecans, walnuts, hazelnuts and almonds work well)
1/2 cup coconut flakes or chips
3 tbsp cold-pressed coconut oil
2 tbsp- 1/4 cup raw honey
Slice apples into thin slivers. Toss them with flour, cinnamon and nutmeg. Transfer into a small glass or ceramic baking dish (8x8 or a 9" round) and set aside. In a food processor (or by hand) combine sprouted nuts and coconut flakes, and chop coarsely. Add coconut oil and honey to nut mix and work together until well combined. Crumble the topping over the apples and bake for 30-40 minutes at 350°F.