The vibrant fall season brings with it a dynamic sensory spectacle: fiery leaves slipping from outstretched tree branches, the first curls of smoke rising from household chimneys, and a bountiful harvest unearthed from dark, cooling soils. As the temperatures dip, there is a natural draw into the coziness of the kitchen and an innate longing to spend time preparing robust squashes, warmly spiced baked goods and steaming soups. Yet cooking for the season doesn't always have to be unforgivingly time-consuming or difficult. Try these quick, delicious no-bake pumpkin energy bars: the perfect way to revel in the flavors of fall on-the-go.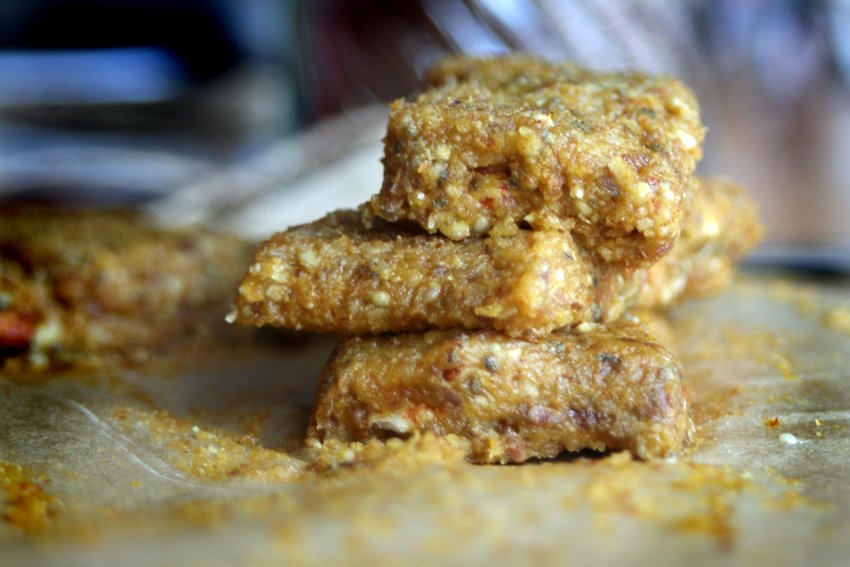 With all the splendor of the season, fall never fails to be a busy time of year. We scramble to keep pace with hectic class or work schedules, attend various festivals and events and somehow find moments to jump playfully in crisp leaf piles and craft Halloween costumes in between. I created this recipe based on this very realization: sometimes we crave the traditional fall recipes but simply don't have the time to make them. Plus, treats like pumpkin pie and apple crisp just don't travel all that well- unless you want to be continually left with a towering stack of tupperware teetering at the sink's edge each evening.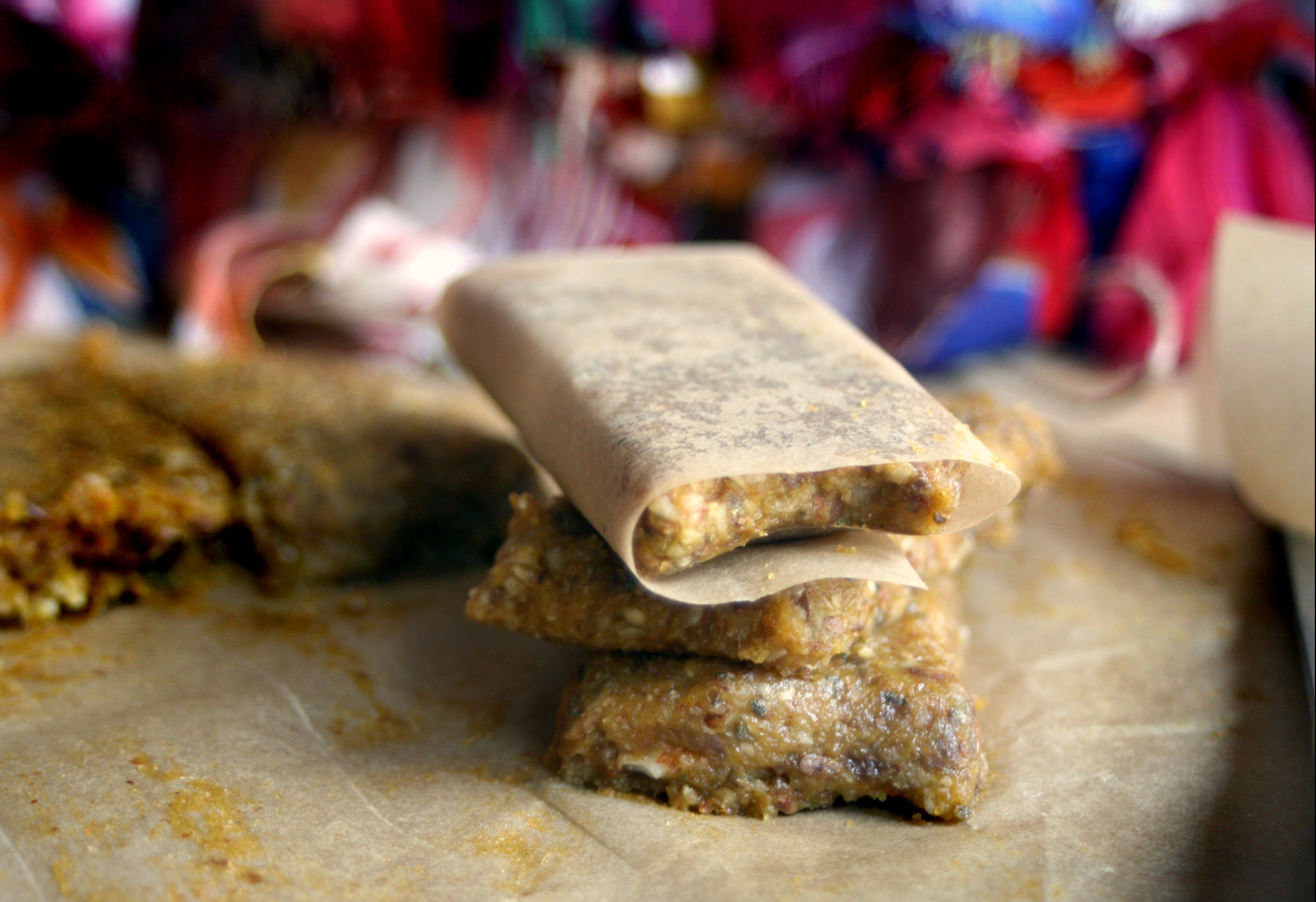 Hence, this hearty pumpkin bar: grain-free, simple, portable and minimally messy. Unlike the myriad store bought bars which invariably contain scoops of sugar and sketchy artificial flavorings, these homemade snacks contain only real food ingredients. What's more, the ingredients have been carefully thought out to yield just the right balance of healthy fiber, rich fats and satisfying proteins. The medium chain fatty acids from coconut, omega-3s from flax, minerals in the almonds, carotenoids in pumpkin, and immune-boosting enzymes of the manuka honey blend to create a synergistic supply of important nutrients that are often missing from other foods.
As always, remember that ingredient quality counts. Go for organic when possible and be sure to find seeds and seasonings that are non-irradiated. Make your own pumpkin puree at home, rather than scooping it from a can. Use soaked or sprouted nuts in order to minimize the phytic acid induced gastric irritation that occurs with the use of raw varieties. Learn how to make your own sprouted almonds or seeds, or purchase from a trusted source. I have included links to the products that I used, as Radiant Life only carries items that are organic, non-gmo, minimally processed and sustainably sourced.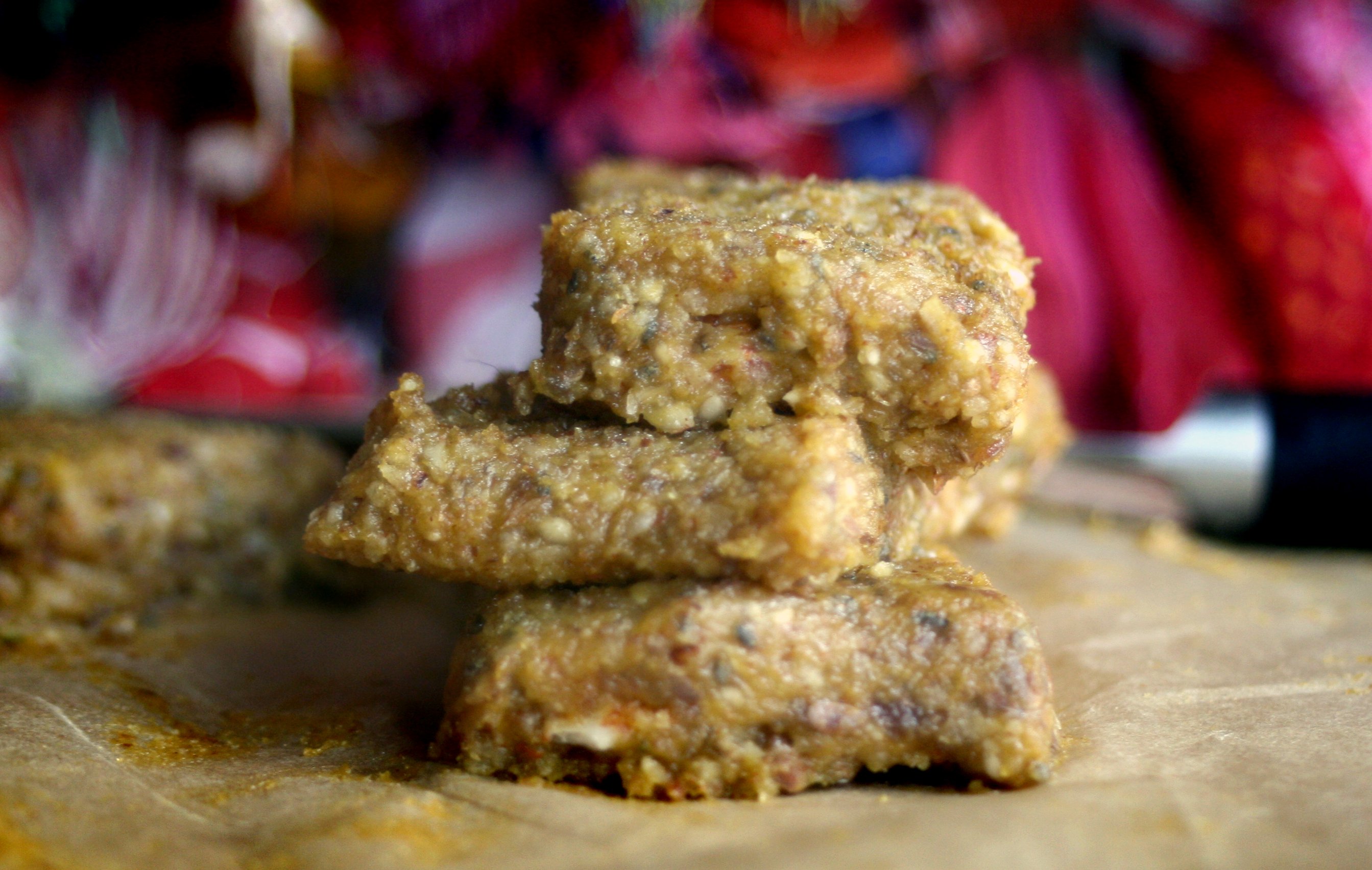 Ingredients
Makes about 12 bars:
1 cup pitted dates
1/3 cup pumpkin puree (preferably homemade or organic in BPA-free cans)
1 tablespoon organic whole chia seeds
2 tablespoon organic whole flax seeds
1/2 cup soaked organic pumpkin seeds (pepitas)
1 cup soaked organic almonds
1 cup organic, unsweetened coconut flakes
1 teaspoon cinnamon
1-2 tablespoons raw manuka honey or raw beechwood honey
In a food processor combine dates, nuts, seeds and coconut flakes. Process on high until coarsely chopped. Add in pumpkin and honey, and process again until smooth (depending on the strength of your appliance, this should be another 5 minutes or so). The result will be a sticky dough. Transfer dough from processor onto a parchment-paper lined cutting board. Using a spatula or spoon, roughly press dough into a 1/2 inch thick sheet. To make smooth, cover the sheet of dough with another layer of parchment paper and run it over with a rolling pin or round glass bottle. Cut into bars of desired size. Enjoy right away or keep in the refrigerator or freezer for later use. To make portable, wrap each bar in a small piece of parchment paper so that it can be thrown in a bag or stainless steel lunch container for on-the-go.