On summer days when the mere thought of baking makes you wipe your forehead and sweat through your t-shirt, a jar of nut butter and a banana can make the perfect no-mess treat. Add the chill-factor of the freezer and a drizzle of chocolate into this recipe, and you have a sophisticated and delicious hot-weather sweet to enjoy.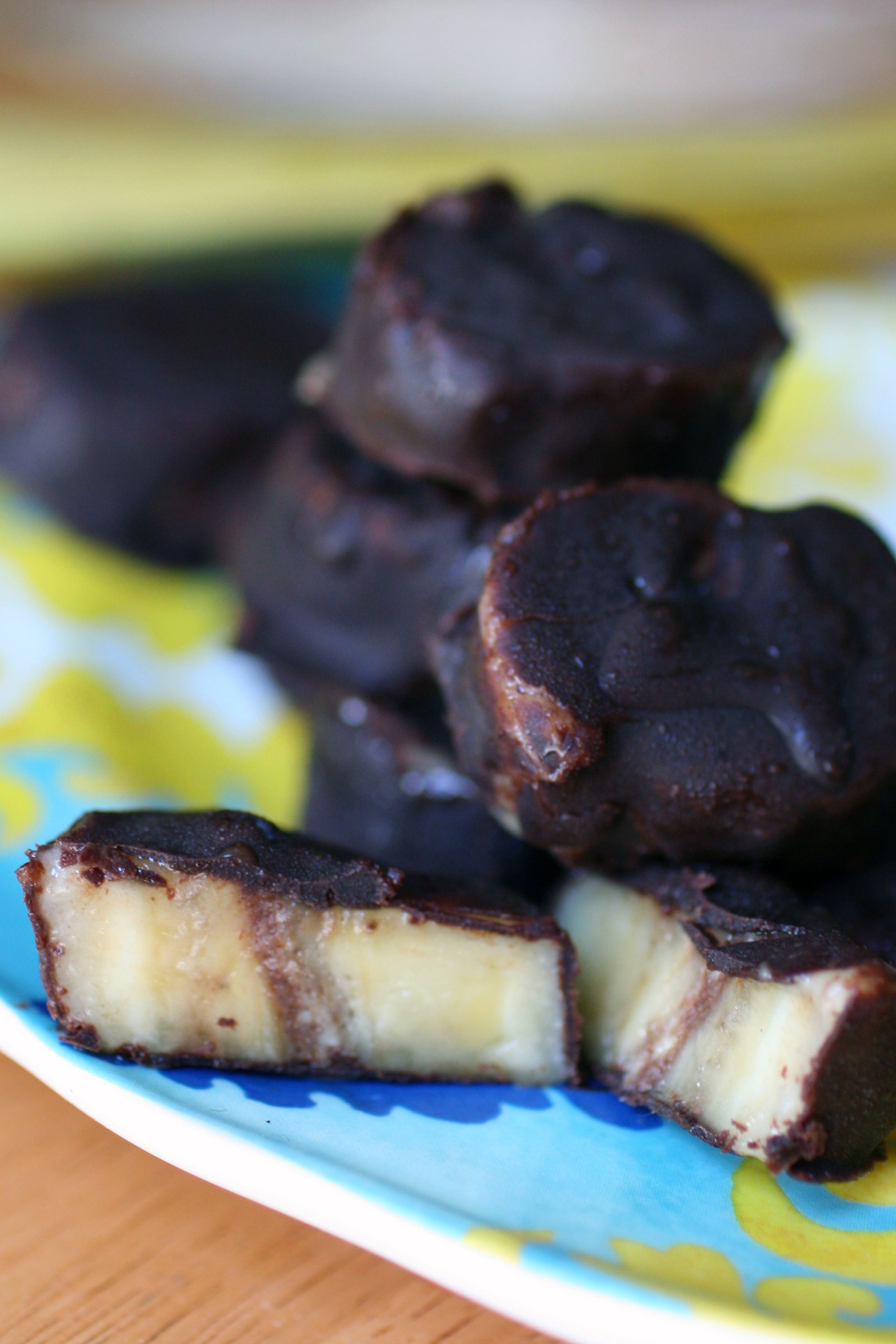 For those of you who have yet to try this out, you should know that frozen bananas taste like ice cream, plain and simple. The smooth texture and sweet tasting fruit yields a creamy, melty dessert bar that is naturally "free" of all of those pesky modern food ingredients many of us look to avoid: dairy-free, refined-sugar free, gluten-free, soy-free, preservative free...you get the idea.
Some people opt to simply stick a banana on a popsicle stick and leave it in the freezer for a quick homemade creamsicle. This is a perfectly lovely and convenient idea. But for a more satisfying variation that is rich with proteins and healthy fats, I added a dab of sprouted nut butter and coconut oil chocolate spread to make these frozen delights.
I do realize that these additions make the name (Chocolate Covered Sprouted Nut Butter & Banana Bites) sound more like a run-on sentence than a title. Yet no matter how hard I tried to dream up a cutesy name for these delicious paleo-friendly, whole food treats I couldn't devise anything suitable (maybe something that involved monkeys? or hinted at a breezy afternoon in the tropics?). And so I decided to just call it like it is and let you do the dreaming. Feel free to share your name for these little nibblers after you've had a chance to test them out.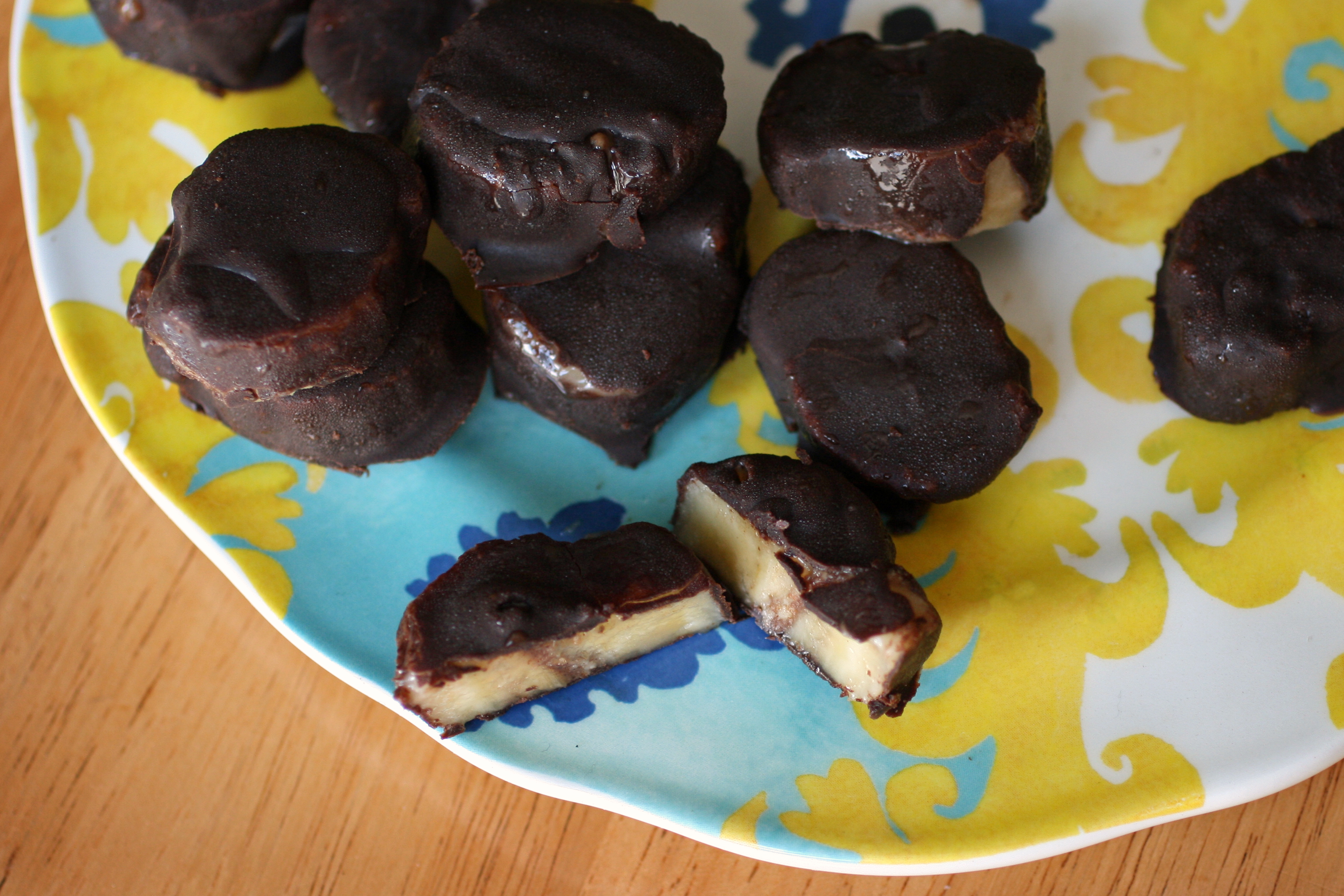 As for ingredient specifics, this recipe, as with most of our recipes, lends itself quite well to creative embellishment and experimentation. Make a coconut variation that uses coconut spread in the middle. Try different nut butters (although I tend away from peanut butter as it can be irritating to many people and is technically a "legume butter" anyway). Maybe you want to roll the outer chocolate layer in some chopped nuts or coconut flakes. Whatever your inclination...go for it!
Ingredients
1 banana (fair-trade and organic if possible)
2 tablespoons, sprouted nut butter (try Blue Mountain Organics or make your own)
Three Ingredient Chocolate Sauce or 1/2 cup melted dark chocolate chips
Instructions
Peel banana and slice in half lengthwise. Carefully spread the flat surface of one half with nut butter, covering generously (tip: if you are having trouble with the runny-ness factor of the nut butter, try refrigerating or freezing for a few minutes first). Place the remaining banana half on top to create a "sandwich."
Cover a plate or small tray with parchment paper. Place banana sandwich on top and freeze for about 1 hour. In the meantime prepare your choice of chocolate dip (this DIY coconut oil chocolate sauce is our favorite, but melting about 1 cup of dark chocolate chips on low heat works too).
Remove banana from freezer and cut into rounds of about 1/2 inch thick. Using a toothpick or fork, dip each round in chocolate sauce to cover completely. Set in a single layer on plate or tray and replace in freezer to allow for chocolate to harden completely. Serve frozen, or store in an airtight container in the freezer for future use.