Recently, we wrote about how to improve the quality of sleep using natural remedies. With sleep disorders on the rise, we think it is important to consider the various factors that promote a good night's rest. One under-discussed facet of sleep hygiene is the importance of clean air in the bedroom. If you think about this further, ideally you are spending 8+ hours in that room and breathing that air. In the cooler months, we tend to close windows so the option to increase ventilation inside your home isn't always practical. So how can you improve air quality in your room?
Indoor Air Pollution
One of the most surprising aspects of air quality to consider is that indoor air pollution could actually be more toxic than the outdoor air surrounding your home. In fact, the air in the average home is 4-5 (even up to 10) times more polluted than the air outside. How does that happen?
As we are becoming more mindful of what we eat, drink and use on our bodies, airborne chemicals often go right under our noses, literally. Certainly, having organic options in the home is a great start for improving air quality and helping the environment. However, there are factors we simply cannot easily remove.
The most common airborne chemicals show up in our homes as toxic gases are VOCs (volatile organic compounds) and PBDEs (polybrominated diphenyl ethers). You would be hard pressed to find a home in the United States that would not have any VOCs present.
VOCs affect all of us- even unborn babies. In 2005, the Environmental Working Group (EWG) commissioned a study of 10 American newborns to determine if there were any toxic chemicals in their bodies. Their analysis detected 287 industrial chemicals! In many cases, VOCs are found throughout our homes in various forms such as: paints, paint strippers, wood preservatives, aerosol sprays, cleaners/disinfectants, air fresheners, stored fuels and auto products, hobby supplies, and dry-cleaned clothing.
We are also exposed to PBDEs airborne chemicals as a result of flame retardant chemicals sprayed on furniture foam and fabrics. PBDEs accumulate in our blood and breast milk. Due to the banning of most of these chemicals in other countries since 1998 and 2004, Americans have levels 10 times greater than residents of the Europe and Japan. The levels are doubling every 2 to 5 years, according to the EPA.
With both asthma and allergies on the rise, the cumulative effects of VOCs and PDBEs should be considered by anyone experiencing these inflammatory conditions.
If you have to choose one room to eliminate toxic chemicals from, it should be the bedroom. Transforming the bedrooms in your home into healthy retreats can have a major impact on the health and well-being of you and your children. As we discussed, chemicals in mattresses, bedding, furniture, carpeting, and paint all release chemicals into the air, which you inhale while you are sleeping. Having clean air certainly helps with a good night's sleep, and is also important to overall health!
Finding a Quality Air Purifier
Experts say a quality air purifier is truly one of the most important things you can do for better air quality in your home because realistically, no matter how meticulous and diligent you are, it is impossible to completely control toxins and pollution. After extensive research, we recommend Austin Air Purifiers, as no other set of of personal air purifiers comes close to the level of performance that we have seen. At the heart of the cleaning process is the #1 ranked filter in the world as determined by a number of consumer and commercial tests. All nine models remove 99.97% of all airborne contaminants larger than 0.3 microns, while eliminating over 3000 toxic gases and odors. Be sure to find the purifier that is best for you.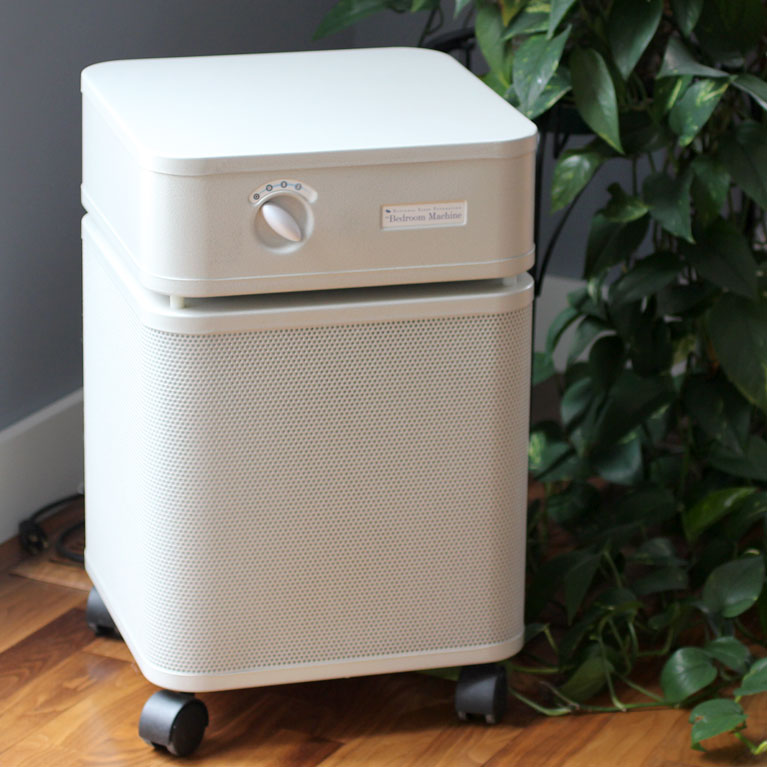 In addition to our positive experience with Austin Air, The National Sleep Foundation recommends The Bedroom Machine by Austin Air.
Austin Air's Bedroom Air Purifier offers the maximum level of superior filtration broadening the range of chemicals, gaseous and particle pollutants it captures. The Bedroom Machine offers superior ability in trapping pet dander, pollen and dust mites, as well as contaminants such as benzene, ammonia, dry cleaning chemicals, odors from cooking and other harmful toxins.
For other tips on how to freshen up the air in your home, see our post on Is the air in your home making you sick? 6 Ways Back to Clean Air.