What happens when you combine coconut cream, cocoa powder and raw honey? Pure, heavenly, silky, real food dessert deliciousness- that's what. This quick dairy-free coconut chocolate mousse recipe is the one sweet treat that almost everyone at my table agrees upon. From traditional, paleo or vegan diet followers, to grain-free and dairy-free folks, but most importantly for those simply looking to enjoy a tasty bite of food- this effortless dessert is bound to impress. But then again, I'm not saying that you absolutely must share. It's so good you may just find yourself gobbling it up and licking your fingers before you even get a chance!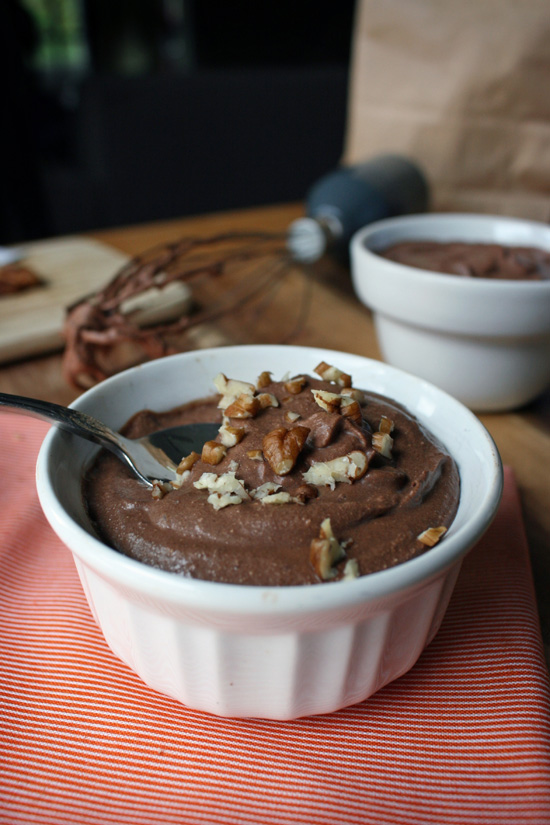 A few weeks back I wrote all about how to make a dairy free whipped cream from a can of coconut milk- a favorite real food trick of mine. One of our readers commented that she tried the recipe with a sprinkle of cocoa to make an amazing chocolate-y version. How brilliant! I quickly scurried off to the kitchen to give this new variation a try and much to my delight, found it to taste just as magical as it sounds. It has been a favorite at all of our gatherings, large and small, ever since. With a bit of experimenting, I've worked to customize this coconut chocolate mousse recipe to include just the right balance of bitter and sweet to my liking, but you can certainly experiment to suite your happy little taste buds too. I promise-this foolproof recipe is very hard to mess up!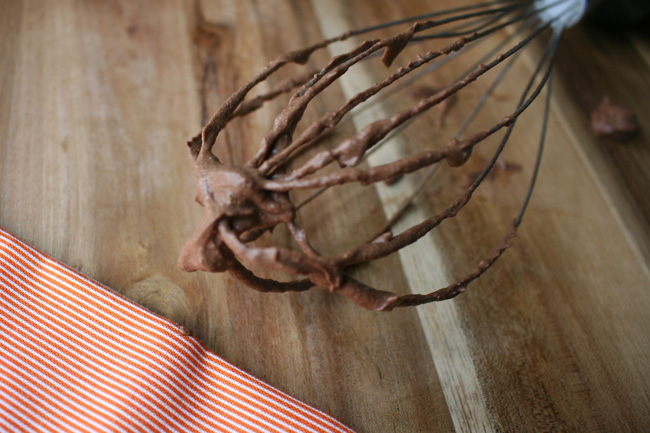 You'll notice that this blog contains a lot of pictures...I couldn't help myself. Doesn't it look so tasty? Plus, the actual recipe is so simple, there isn't really much to say. However, let me mention three other quick things that I truly love about this dessert:
1. There is no cooking required. You got it: just open up some jars, throw ingredients in a bowl and whip them up. No ovens, no piles of pans in the sink. The recipe can also be easily halved, doubled or tripled without any extravagant math calculations to serve any size group.
2. It's good for you! Coconut cream is filled with the same unique medium chain fatty acids that give coconut oil its many health benefits. Add to this the enzyme-full raw honey, mineral rich cocoa and protein boasting nuts, and you have yourself a perfectly balanced nutrient dense snack. Just a small portion is enough to satisfy.
3. It looks positively darling served in fancy little bowls on a tray. Okay, so maybe it's just because I have a secret love of dishes, but don't you agree that things taste better when they look pretty? I've convinced many people to eat my wholesome, real food creations by serving them up in an appealing way.
But enough chatting- let's get to the recipe!
Coconut Milk Chocolate Mousse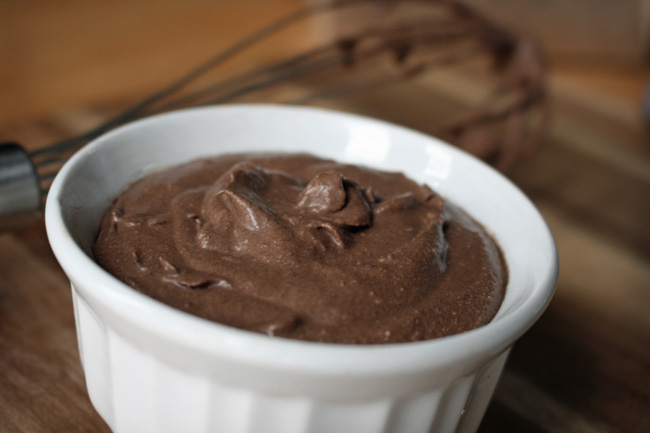 By Kayla- Radiant Life
Ingredients
1 can coconut milk, preferably organic and free from additives/emulsifiers
2-3 tablespoons cocoa powder
1 tablespoon raw honey or pinch of stevia, to taste
1/4 teaspoon vanilla extract
few tablespoons sprouted nuts, chopped(optional)
Instructions
*For a more detailed guide and even larger collection of photos on how to make plain whipped coconut cream, you can visit the original post about it here. It might be worth a visit, as the post is filled with helpful tidbits for selecting and preparing the cream so that you get the most consistent and fluffy whip every time.
Place coconut milk in the refrigerator for a few hours or overnight so that the cream (the fatty delicious part) hardens, separates and rises to the top. Open the can and scoop out this hardened cream, placing it in a large glass or stainless steel mixing bowl. You won't need the remaining liquid at the bottom of the can for now, but don't forget to save it for use in other recipes.
Using a hand held mixer on low speed, slowly start to whip the coconut cream (using the same techniques you would for regular dairy cream). Add cocoa, honey and vanilla extract and gradual work to a higher speed until ingredients are well combined and you have incorporated enough air for desired texture. Top with your favorite variety of chopped nuts for a bit of added crunch, or a handful of fresh berries and serve immediately. Mousse will also keep well in the refrigerator for several days.