Decadent? I think yes! Creamy cheesecake, rich, savory chocolate, and ripe raspberries are truly a few of my favorite things! Combine them all together and you will have this irresistible, dreamy dessert. What I love best about it is that it's friendly for all my dairy-free friends. This cheesecake is actually free of many of the top allergens including eggs, gluten, and soy! Another plus? There is no oven or baking necessary, which makes this recipe simple, quick, and easy.
This cheesecake actually has many nourishing ingredients in it, and no refined sugar, which makes it a healthier option than most food items out on the grocery store shelves today. It is so tasty, that you would never know that the cashews do the magic and that there is actually no cheese in this cheesecake at all. With all the vegan dessert alternatives, this recipe certainly tops the charts with ease of making and the perfect combination of creamy texture, simple sweetness, and pure chocolate. Unfortunately, even desserts marked as "healthy" can be loaded with excess sugar and more ingredients than necessary. So look no further then this little gem below!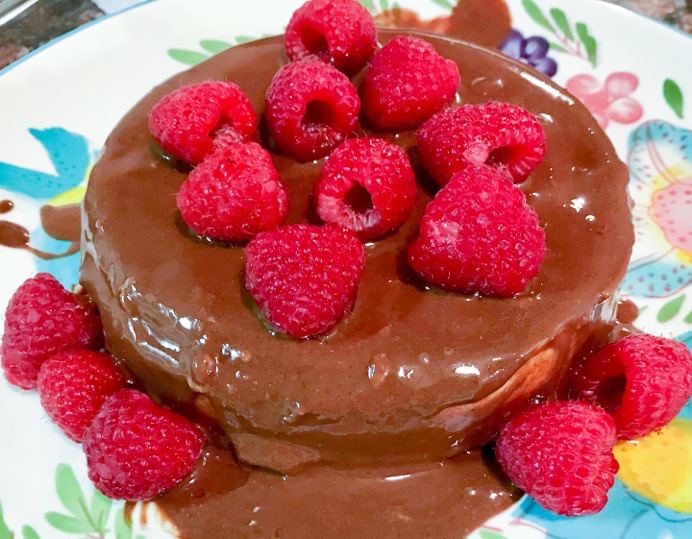 A note about the nuts: when I make this recipe, I use cashews that are already soaked and sprouted you can find them here. But if you're making this recipe with raw cashews I recommend soaking them first to reduce phytates and enzyme inhibitors. This helps to make the nuts more digestible. You can find out more about that process in this blog post. If you tend to struggle at all with issues related to digestion, this extra step will certainly be worth your time!
Ingredients:
Crust
1 cup coconut flour
1/4 tsp. sea salt
1/4 maple sugar
1/2 cup cacao powder
1 Tbs. vanilla extract
Filling
4 cups cashew pieces
1 cup coconut oil (melt first)
1 cup fresh raspberries
1 cup maple syrup
1 cup coconut milk
1 Tbs. vanilla
1 1/2 cups cacao powder
Fudge Sauce
1 cup chocolate chips
2 Tbs. coconut oil
Raspberries on top to your liking
Directions:
Place all of the crust ingredients into a food processor and pulse until everything is incorporated together. The mixture should be slightly sticky. Dump the mixture into an 8-inch glass pie dish. With clean fingers, press the mixture down into the bottom of the dish evenly, forming the crust layer. Set aside to harden.
Put the cashews into the blender along with maple syrup, vanilla, and coconut milk. Blend it for a couple minutes until it gets creamy.
Once it's creamy, add in the raw cacao powder, coconut oil and raspberries. Blend again until creamy. Make sure to scrape down the sides and continue blending until all is mixed well.
Pour the filling into the glass pie dish over the crust and put it into the freezer to chill for 2-3 hours or until set.
For the fudge topping: Melt the chocolate chips and coconut oil in a double boiler. Whisk together. Pour over the top of your cheesecake. Top with raspberries to your liking!
*If there are any leftovers, it is best stored in the freezer, though it can be stored in the refrigerator if it will be eaten within a couple days. That is never a problem in my household!