I want to let you in on a little secret: lip balms made at home are way better than store bought varieties. And believe it or not, whether you are awe inspiring-ly creative or DIY-leery, you (yes, you) can blend up your very own inexpensive, custom lip treatments in the kitchen in no time at all. This particular recipe combines just 4 whole food ingredients for an enviably smooth and sweet Coconut Oil Vanilla Lip Balm. Do-it-yourself, nutrient-dense, lip balm perfection that can be whipped together in 10 minutes? Sounds secret-worthy to me!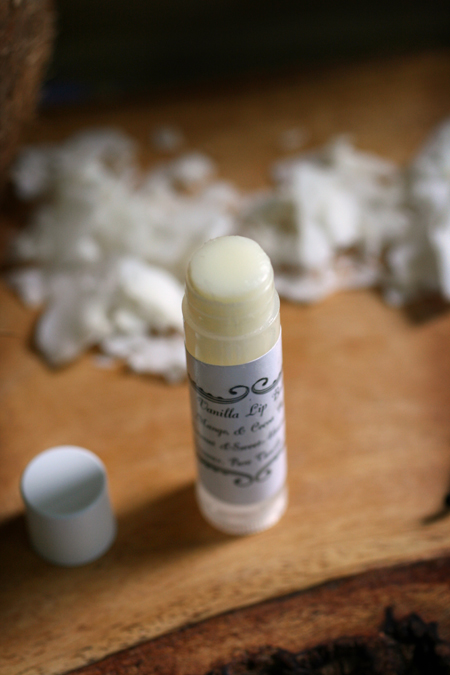 Unfortunately, many commercial lip balms are made with unstable, refined vegetable oils, "medicated" with harsh acids, and infused with artificial fragrances that can actually irritate and disrupt the fragile first layer of skin on the lips. Thus, while you may be globing on more and more lip salve for relief, it can be the very thing that is causing dryness and discomfort! Personally, I prefer to make my own lip balms from ingredients that I trust rather than risk this viscious cycle of lip balm-dependence and free-radical damage. Also, creating my own personal care products makes me feel self-sufficient, crafty and kinda cool, although I suppose that is really beside the point.
Forget all about the chemical-ridden lip gloss formulas pumped out by cosmetic companies, and get back to the basics with a new variety of healing homemade balm to smack onto your lips. The basic equation for making your own lip balm goes like this:
1 part oil + 1 part butters + 1 part beeswax = amazing DIY lip balm
Keep this formula in mind (I promise, it is the most complex math you will have to do in the process) and you will be well on your way to designing your own line of custom lip balms to enjoy and share.
The recipe below was inspired by my innovative aunt, who used these darling Coconut Oil Vanilla Lip Balms as a party favor- something all of us recipients loved. Feel free to modify based on the ingredients you have on hand or add a few drops of essential oils to enhance therapeutic effect.
Coconut Oil Vanilla Lip Balm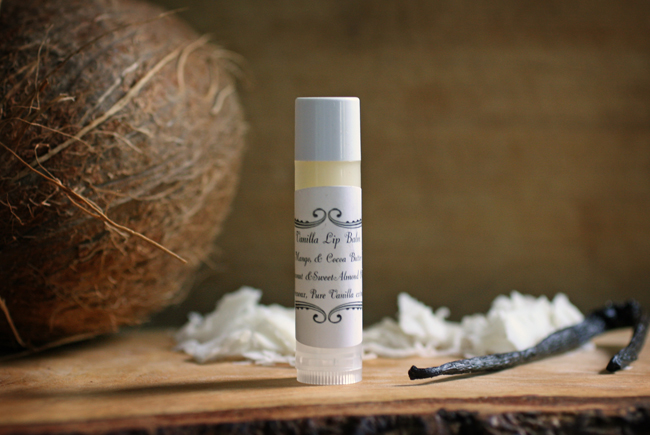 By Kayla - Radiant Life
Makes 10-15 tubes
Ingredients:
2 tablespoons mango butter or cocoa butter (or blend of both)
2 tablespoons virgin coconut oil
2 tablespoons beeswax, pastilles or shredded
1 tsp pure vanilla extract
Instructions:
Coarsely chop or grate the beeswax and butters if in solid block form (if using pastilles skip this step).
Measure out equal parts tightly packed, grated beeswax and butters into a mason jar or small glass pyrex measuring cup. Add of coconut oil as well.
Prepare a double boiler system by adding about 1-2" of water to a small pot. Submerge bottom of mason jar or measuring cup in water. Heat water on medium-low to melt contents, stirring occasionally. Monitor to ensure that the water does not boil over the rim into blend.
Once melted together, immediately remove from heat and add vanilla extract to mix. Take care to handle jar with proper protection, as it will be hot. Stir vigorously to combine.
Pour the hot mixture into lip balm containers. Use tubes or tubs to your preference. To speed up cooling process, place containers in the refrigerator to set. Use as you would any other lip balm and enjoy!
If you are in a hurry or not up for a DIY adventure this time around, don't feel like your only option is the conventional stuff. A handful of small companies are now making whole food based lip balms that you can find in select health food stores or online. I love Rosemira Lip Balms because they are local to us, expertly crafted, and include the perfect balance of healthy oils for healing dry or chapped lips from the inside out. It's like homemade...but with someone else cleaning up after.