There is just something about ice cream that's simply irresistible. Perhaps it's the delightfully smooth texture, subtly blended flavors, or just the sweet simplicity of the tradition. Even as long August days begin to fade slowly on the September breeze, we have decided it isn't yet time to put the scoop neatly back in the drawer nor to say goodbye to licking the ice cream drips from our fingers. Earlier in the summer we shared one of our favorite ice cream recipes from Nourishing Traditions, which we continue to savor as a refreshing treat. However, inspired by our new line of Radiant Life coconut products, we decided to try something new altogether and combine two of our favorite indulgences into one frozen treat. This homemade Coconut Milk Ice Cream recipe from The Naked Foods Cookbook combines beloved coconut, delectable fresh avocados and soaked cashews into a gently sweet, palate-pleasing natural dessert. Topped with slightly chewy coconut flakes, this frozen dessert is an innovative spin on heavier classic homemade ice cream and is well worth the experiment.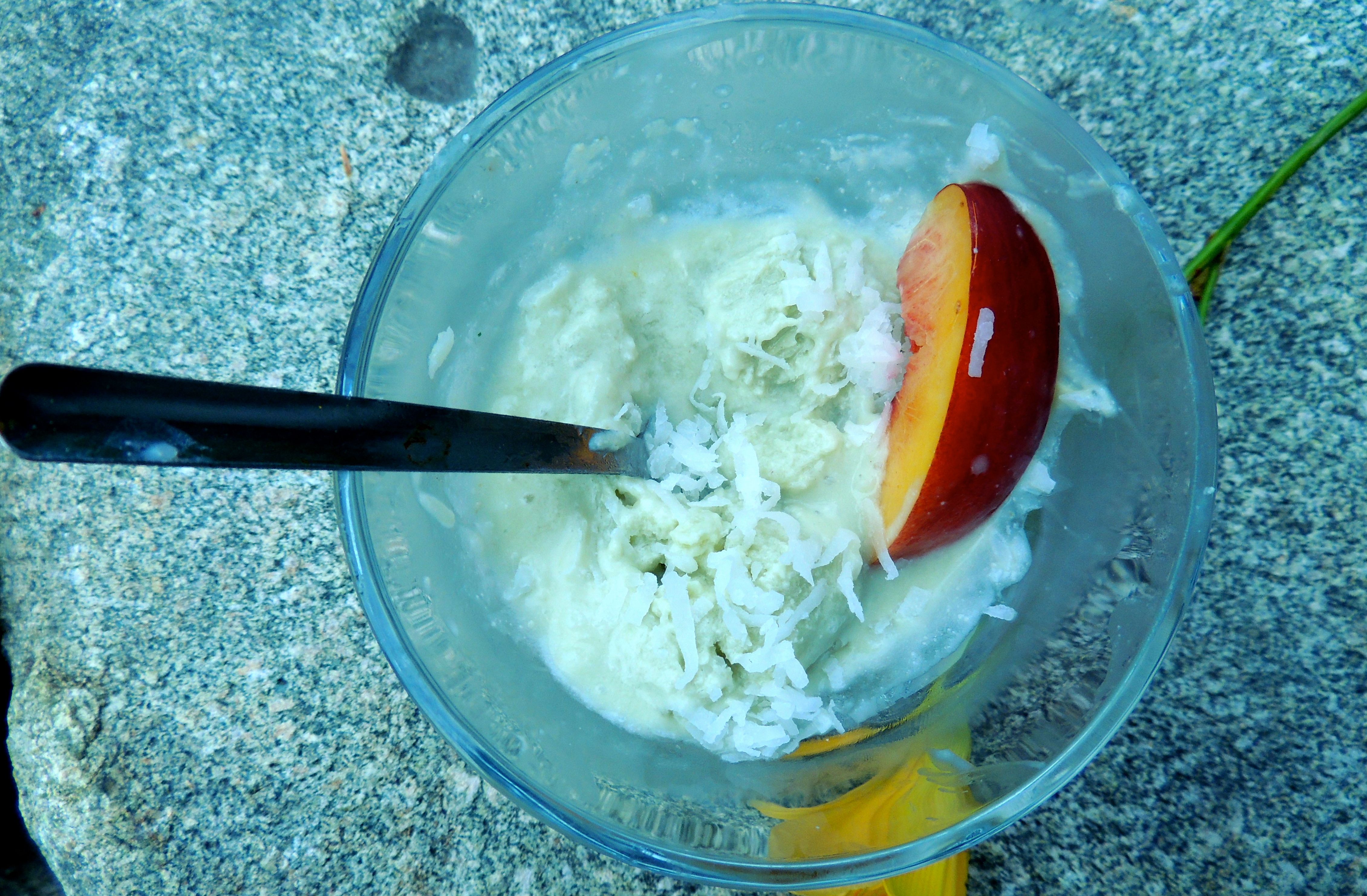 In diverse tropical cultures, coconut palms are often regarded as "The Tree of Life." With deep tradition as a functional food and medicine, nearly all parts of the coconut can be utilized in some way- from the hydrating clear liquid found within to the fibrous exterior shell. Coconut oil, the saturated oil extracted from fresh white coconut meat, is of particular interest due to it's unique healing qualities and unusually potent nutrient profile, offering health benefits that extend far beyond any other dietary oil. The major fatty acid in coconut oil is lauric acid, a distinctive medium-chain 12 carbon saturated fatty acid that is revered for it's antiviral, anti-fungal and antimicrobial properties, among other attributes. Coconut oil is one of the only food sources of such medium chain fatty acids (MCFAs) as most fats from animal and vegetable derived products are composed of larger long chain fatty acids (LCFAs). Because the body metabolizes fatty acids differently based on their size, MFCAs have highly unique physiological qualities such as offering powerful support to the immune system, revitalizing skin and hair, stabilizing blood sugar fluctuations, maintaining effective energy levels and protecting the function of the heart.
The Health Benefits of Coconut Milk
Though perhaps not as popularly celebrated as pure coconut oil, whole coconut milk also maintains high levels of healthy MFCAs and is thus graced with similar healing effects to the oil. Coconut milk can be deliciously blended into sumptuous recipes or applied directly as a conditioning salve to skin and hair. Coconut milk is made by pressing the soft white flesh of freshly opened coconuts. The result of this process is a thick cream, composed of mostly coconut oil and complex carbohydrates. This mash is then diluted with purified water to gain the desirable liquid consistency we are accustomed to. While it is possible to make homemade coconut milk using the meat and liquid from a young green coconut, this process does require a certain degree of dedication to learning the skill of breaking through the tough outer coverings of the nut. However, if you are able to find young green coconuts (sometimes called Thai coconuts) in your local health foods store or Asian market and have a spirit for adventure, making your own coconut milk will result in an incomparably fresh and light tasting product. Once you have mastered a solid technique for opening a coconut, you will also be able to savor a delightful array of fresh coconut recipes such as refreshing coconut kefir.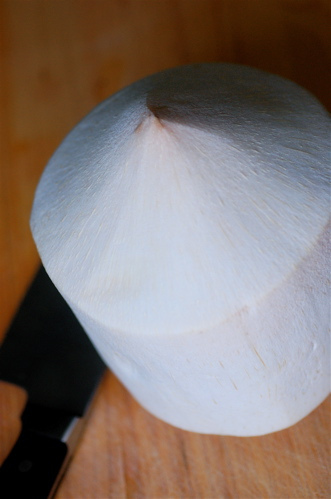 Homemade Coconut Milk
Makes about 2 cups
Water and flesh from 1 young green coconut
Open the young coconut and pour the water into a blender. Using a spoon strip the soft white coconut meat away from the inner shell, removing any slivers of the shell that have stuck to the meat. Place coconut meat into the blender with the water and pulverized until well mixed. Milk will store in a glass container in the refrigerator for up to 1 week until ready for use.
If wrestling with a fresh coconut isn't something you are up to on any given day, commercial coconut milk is one of the few canned products considered acceptable in a traditional diet. As with any product you purchase as a consumer, it is important to ensure that the milk you are getting is as high quality and least manipulated as possible, so that you can enjoy the full spectrum of balanced nutrients that nature intended to offer. Coconut milk offered in cartons tends to look more wholesome and appealing, however these products generally tend to contain more added stabilizers than canned alternatives. Coconut milk is available in most grocery stores, however you may find shelves crammed with lite labels, demarcating the popular diluted "low-fat" alternative. Selecting a whole coconut milk is vital in ensuring that all of the beneficial medium chain fatty acid are still present in the liquid and will provide a more optimal taste and texture in your cooking. Also verify that no emulsifiers or preservatives have found their way into the product, and that it is packaged in a BPA free can.
Homemade Coconut Milk Ice Cream Recipe

This delicious homemade coconut milk ice cream recipe combines the delicate tastes and robust benefits of coconut milk with the beautiful healthy fats and enzymes found in avocado. Add in the smooth texture of cashews and the subtle natural sweetness of honey or dates, and you will enjoy a truly satisfactory treat that also acts as an energy sustaining snack.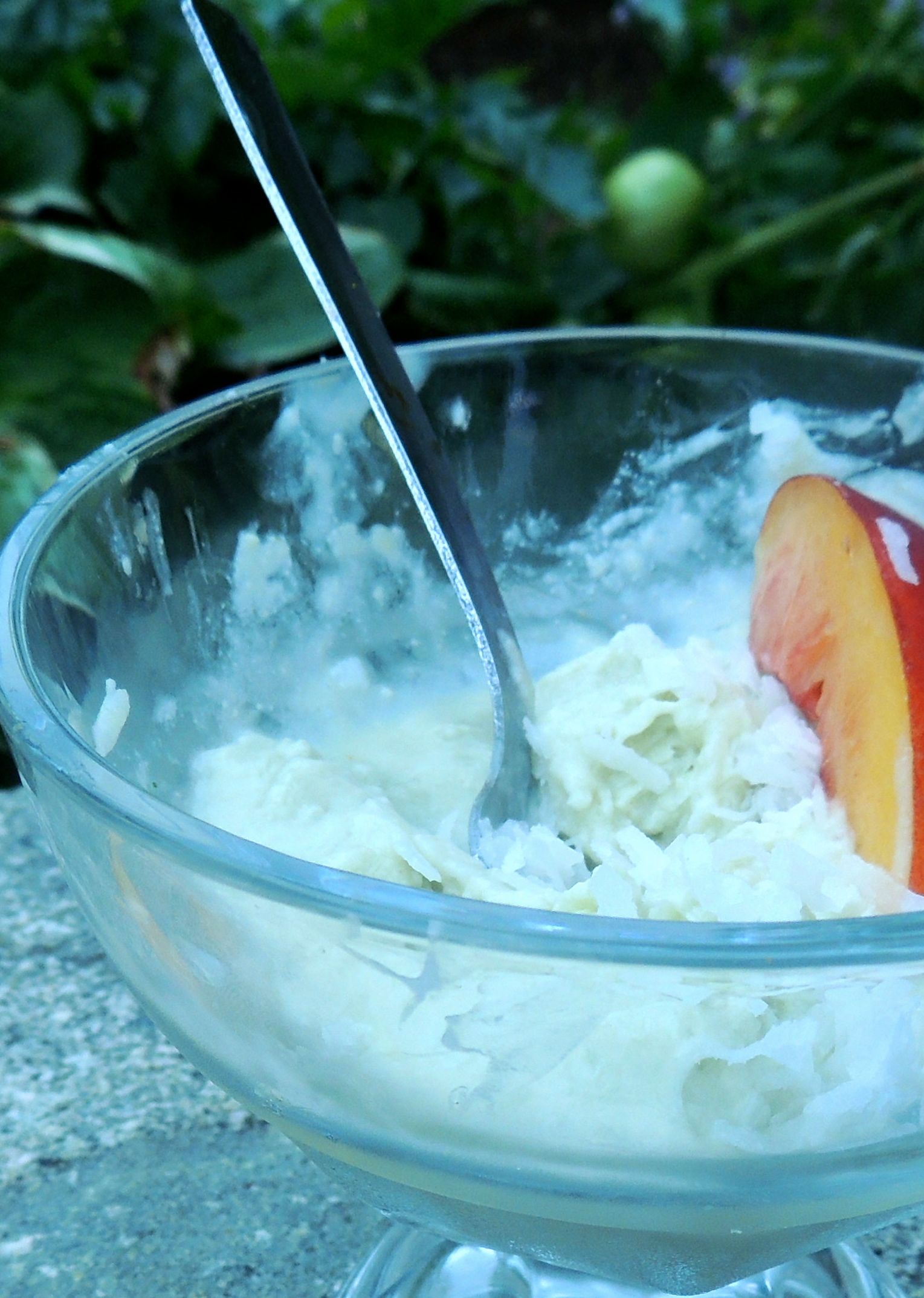 1 (14 oz) can coconut milk or 3/4 cup plus 2 tablespoons homemade coconut milk
1 tsp vanilla extract
2 tablespoons raw honey or 6 pitted dates
1/2 avocado
1/4 cup cashews, presoaked
12 ice cubes
Scoop out avocado flesh, and add with all other ingredients except ice cubes into a high-powered blender. Blend until creamy. Add ice cubes and blend until smooth.
Pour mixture into a glass container and allow to harden in freezer for up to 3 hours, top with coconut flakes then serve. Leaving in the freezer for longer periods of time should be avoided, as this will make it too hard and difficult to scoop.
Resources
Photo: Young Thai Coconut by sweetbeetandgreenbean.net/Courtesy Flickr
Coconut Research Center: Cocos Nucifera by Bruce Fife