Natural hair care can be tricky. Countless "holistic" hair products can be found lining the shelves these days- all wrapped up in pretty leaf-decorated packaging and marked with insanely high price tags. The natural hair care industry is a booming one, with every savvy company out there scrambling to squirt nature-y sounding ingredients into bottles to bring "wholesome" designer product lines to the market. I've tried a fair share of these glitzy faux-organic shampoos and styling gels myself, and often ended up with a disappointing palmful of questionable ingredients and some pretty interesting hair days. When it comes to natural hair care, I have found that some of the most basic and inexpensive solutions are actually the best. This simple homemade two-ingredient hair mask recipe featuring coconut oil and Manuka honey, is my favorite way to deep condition and bring some joy back to dry, damaged, unhappy hair.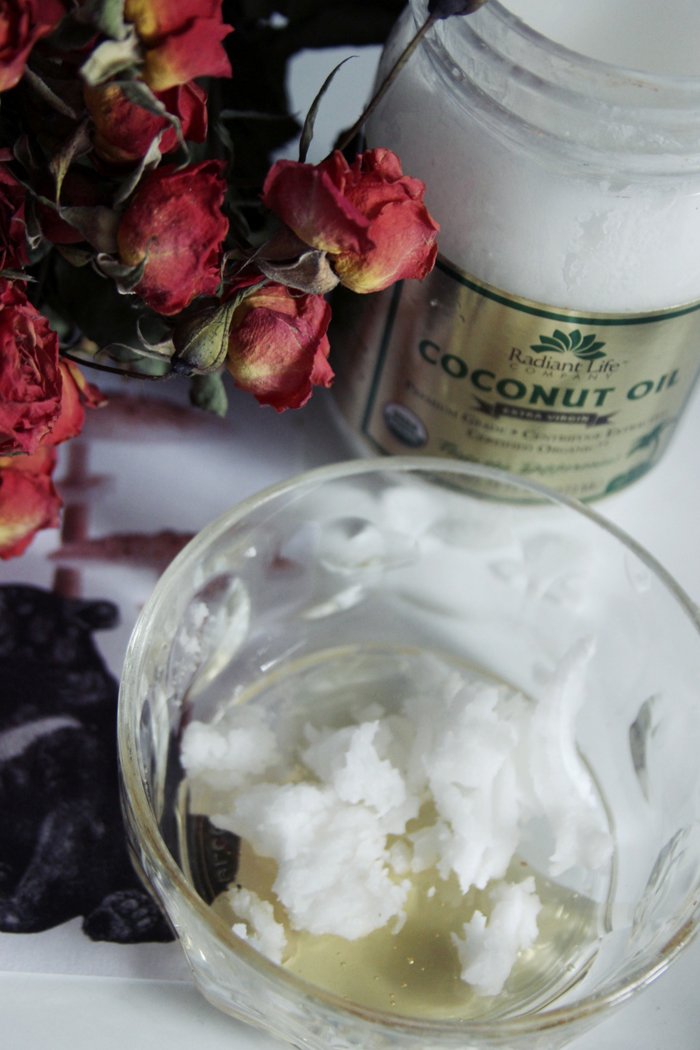 Food for Your Hair
The simple combination of cold pressed coconut oil and raw manuka honey can do wonders for unruly hair. Together this sweet pair is incredible moisturizing and regenerating, leaving locks lovely and a hint more shiny after just a few deep conditioning treatments.
We know about the absolute joys of eating coconut oil. Shimmering in a vegetable sauté, whisked into baked goods, or swirled elegantly with chocolate, this versatile fat has endless uses in the kitchen. But coconut oil slathered in the hair? Really? It may seem a bit over-the-top, but coconut oil acts as a wonderfully nourishing conditioner when applied to the hair and scalp. After all, those beautiful locks deserves some real-food love and goodness too!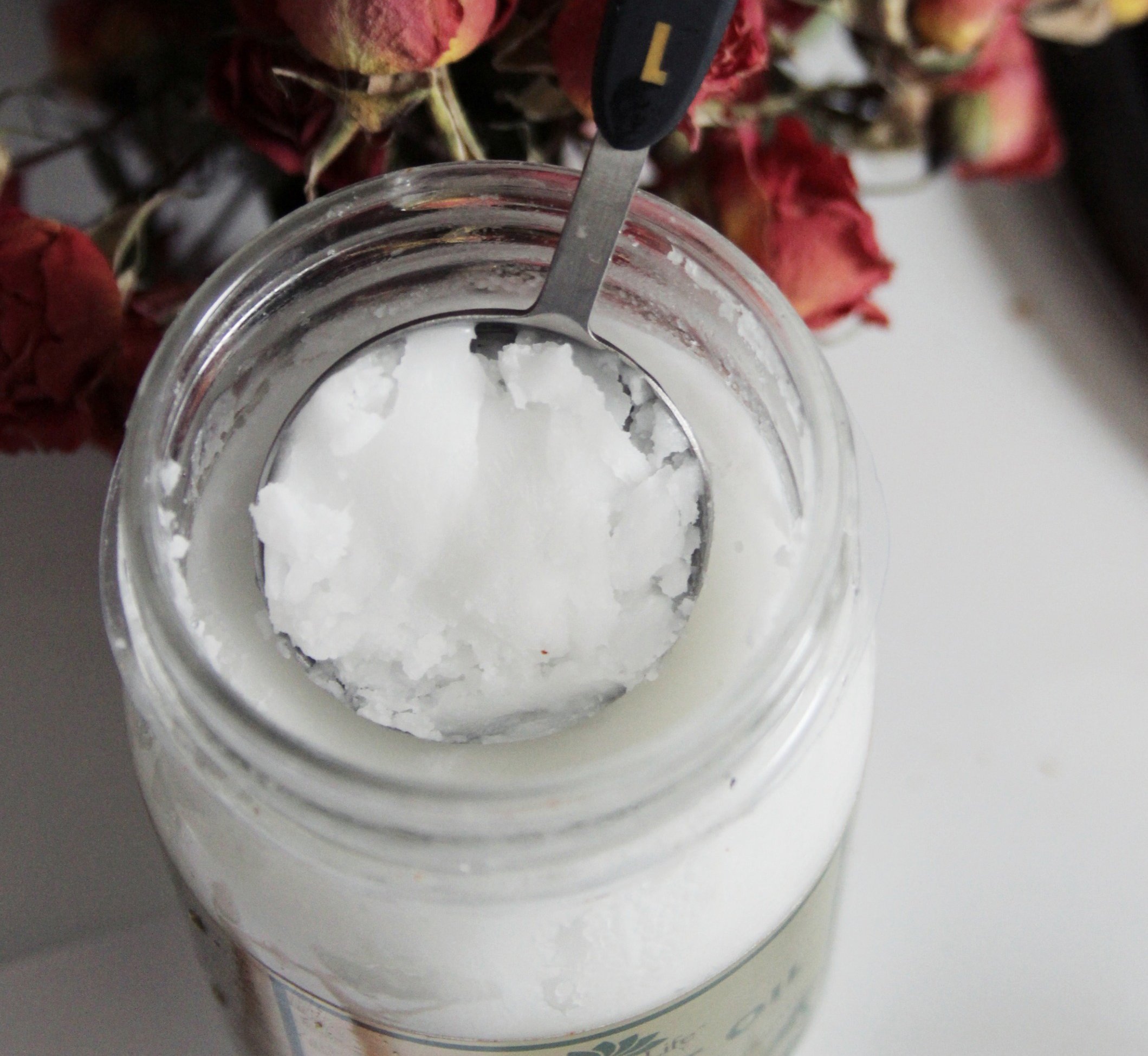 It may sound too good to be true, but here are some of the reasons why the duo of coconut oil and honey may be the natural hair care solution you've been looking for:
1. Actually Heals the Hair
Unlike other popular cosmetic oils such as sunflower and mineral oil, the chemical structure of coconut oil enables the fatty acids to actually penetrate the hair shaft and rejuvenate the hair from the inside out. Filled with medium-chain triglycerides, coconut oil physically replenishes and adds volume to the hair, rather than simply adding a synthetic coating as many store-bought products do.
2. Naturally Locks in Moisture
Honey is classified as a natural humectant and emollient, meaning it attracts and retains water molecules. The added coconut oil helps to seal in this action. Thus, when used as a mask, the two condition deeply and leave the hair looking shinier and feeling softer.
3. Prevents Protein Loss
An interesting study from the Journal of Cosmetic Science demonstrated that coconut oil used in the hair before and after washing can prevent the loss of valuable proteins. No other variety of oil tested in the study was able to show this magnitude of outstanding protection to the structural integrity of the hair.
4. Free from Fragrances
A lot of "natural" hair care products still contain potent artificial fragrances. In addition to being allergenic, many fragrances contain toxic chemicals that can cause respiratory irritation and cell damage with repeat usage. No matter how dreamy the flower scent, strong fragrances are not something you want to be breathing in during steamy showers.
5. pH Balanced
If you have ever tried a recipe for homemade shampoo before, you may have experienced the ruinous drying effects that some natural DIY concoctions have on the hair. Castille Soap and baking soda are often recommended in homemade hair product recipes, however the high alkalinity they posses can be very destructive. Alkaline solutions quickly weaken the disulfide bonds in hair proteins, resulting in significant breakage. Honey and coconut oil on the other hand, offer a more neutral pH that nourishes the scalp and hair safely.
6. Filled with Enzymes and Minerals
Honey contains anti-bacterial enzymes, antioxidants, and minerals that are powerfully nourishing for the hair follicles and scalp. A base of coconut oil helps to deliver these important compounds into the cells where they promote hair growth and strength.
7. A Long History
Reputation might not be everything, but the wisdom and practical know-how of our ancestors definitely counts for something! Honey has been recognized as a soothing personal care agent for centuries. From softening the skin to treating wounds and preventing balding, documents from as far back as Ancient Egypt detail hundreds of uses for honey in healing, bathing and pampering. Coconut oil also has a long-standing reputation of excellence, with many tropical cultures using it as a way to enrich hair color, prevent premature graying and protect from sun/weather damage.
Deep Conditioning Coconut Oil and Manuka Honey Hair Mask Recipe

By Kayla- Radiant Life
Ingredients
1 Tbsp. Raw Manuka Honey
1-3 Tbsps. Cold Pressed Coconut Oil (amount varies on how long, thick, or your damaged hair is. I used 3 tbsps. because my hair is thick and unruly)
Directions
Scoop honey and coconut oil into small pan and heat on stove top at low heat until melted, stirring briefly to combine. It is important to keep temperature at a minimum to preserve the integrity of the nutrients and enzymes in the honey.
Allow to cool to the touch, but not enough so that the coconut oil hardens. Apply to wet or dry hair, concentrated on vulnerable areas- think all those split ends or style-damaged places. Comb through with your fingers and massage gently to cover.
Let sit for 15-30 minutes. Grab a mug of herbal tea, read a book and put your feet up (okay...that part is optional). If you have long hair, be careful to tie it up off your shoulders as the oils will stain your clothes in an instant.
Your hair will be a bit of a greasy mess, so you will want to wash directly after. Shampoo/condition with your regular products and scrub well. If you notice a slight oily-residue remaining after the first rinsing, not to worry- this is normal and will easily come out in the next wash.
Enjoy and repeat 1-3 times per week, or as needed for your hair type.