A few weeks ago I was walking around at our annual town fair when a gourmet dog treat vendor caught my eye. I strolled over and started to survey the table, oogling at the impressive spread of cookies and crackers—some drizzled with icing, some bone shaped, some plain—all made especially for dogs. I grabbed a tiny bag of grain-free treats, decorated with precious little paw stamps and cinched nicely with an orange bow, and brought it to the register. I'm not even going to even tell you how much I paid for those little morsels! Fresh-baked dog goodies certainly come with a price, so lately, I've been making these quick and easy homemade dehydrated chicken liver dog treats instead. My dog has been very happy about it...and so has my wallet!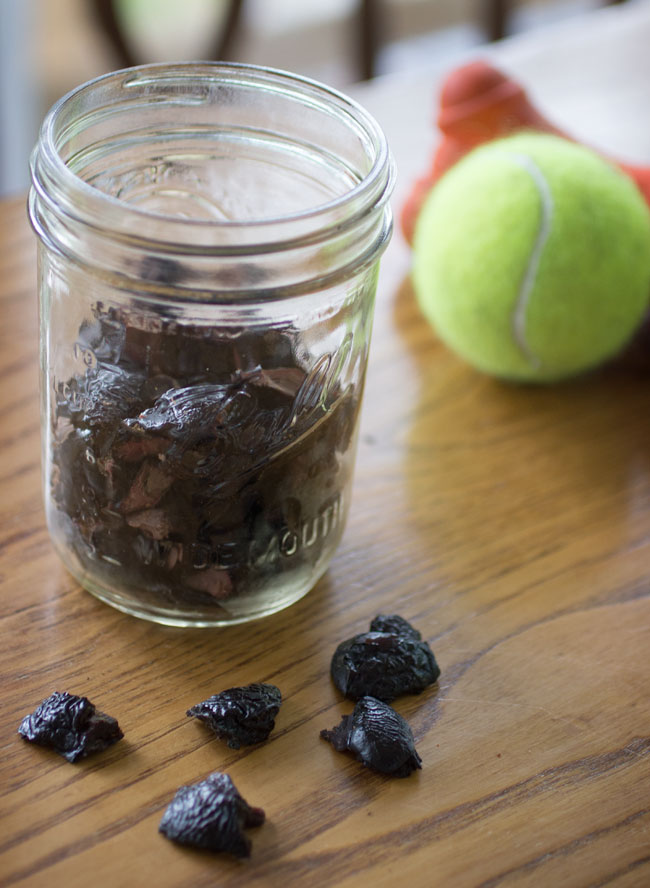 Of all the treats I've tried, my dog gets the most excited for organ meats. Treats made from organs, or offal, like liver, heart and kidney from poultry or cattle are smelly and have a chewy texture that most pups just love to bite into. I have found that liver chews like the ones I am about to share with you are a great tool for training too. Just a tiny whiff of them and my dog is following me around practically waiting for a command.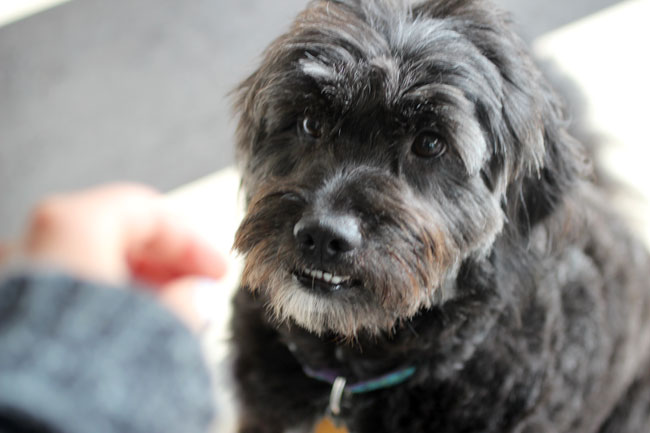 Liver offers many health benefits for our canine friends as well. Liver holds more nutrients, gram for gram, than most any other food, and the impressive list includes (drum roll please!):
High quality protein and amino acids
B complex vitamins, especially natural folate, choline and B12
Fat soluble vitamins A, D, E and K
Minerals including bioavailable forms of zinc and iron
Essential fatty acids like omega-3
I have found that chicken livers can readily be found in the meat and deli departments of most grocery stores, and for a reasonable price. If you have local farms in the area they can often help to source organ meats like liver too. Be sure to look for options that are from well-treated, grass-fed or pastured animals if at all possible.
The only equipment required for this chicken liver dog treats recipe is an oven and a baking sheet. If you are lucky enough to have a stainless steel dehydrator at home, you can make them using that as well. Simply follow the manufacturer's instructions for drying meat and adjust the temperature and times accordingly for your dehydrator.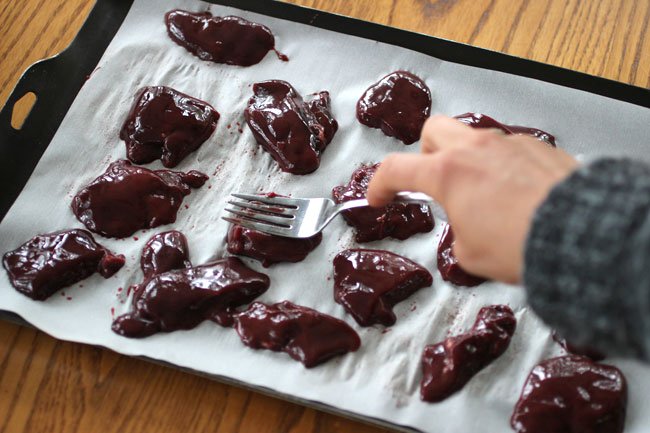 Homemade Chicken Liver Dog Treats
Ingredients
1 lb chicken livers
Directions
Preheat oven to 200°F. Prepare a baking sheet by lining with parchment paper. Remove livers from container and cut into quarters, ensuring the pieces are no larger than 1-2 inches across. Lay out chicken livers on parchment paper, spacing evenly and leaving enough room between each so that they do not touch. Press livers down gently with a fork to flatten and make them as thin as possible, down to 1/4 inch or so if possible. Bake for 3-4 hours, rotating the pan approximately every hour. If the treats are not dry enough after this amount of time, break livers into smaller pieces and replace in the oven for another 30 minutes or so.
Once the chicken livers are sufficiently dry, remove the pan from the oven. The outsides should be dark and crispy, while the insides will remain spongy. Carefully transfer the parchment paper with the chicken livers to a wire cooling rack. The livers should have a jerky-like look when you are through, but will be softer than most store-bought varieties.
Treats will last for about 2 weeks in the refrigerator, or several months in the freezer. Break into small pieces to give to your dog. A little goes a long way!