Making healthy, real food desserts isn't always easy. Gluten-free flours can be tough to work with, recipes seem to have a million steps and at times it can feel like you've spent days in the kitchen experimenting only to end up with a recipe flop. But every so often I find a dessert like this one that tastes amazing and is super simple to make. I guess it's hard to go wrong with chocolate, nuts and fresh berries. This unique nutrient dense dessert combines these beloved ingredients into something that falls between a tart, pie and fruit pizza. Call it whatever you'd like; most importantly it is delicious!

Yesterday I was thrilled to find tidy pints of blueberries stacked onto the shelves of our local farm stand. At this time of year berries of all sorts are starting to make their bright and cheerful appearances. Raspberries, strawberries and blueberries are reaching the peak of their color and flavor. Each berry is sweet, plump and bursting with fresh-picked goodness. After arriving home with all of the berries I could carry, I was tempted to plunk myself down and gobble them all up by the handful. Luckily, I managed to save a few to make this dessert. One thing that I love about these No-Bake Chocolate Berry Slices is that the taste, texture and nutritional benefits of the fresh berries are beautifully preserved. Their sweetness isn't overshadowed by added sugar and their vitamins and antioxidants aren't ruined by baking, as happens in so many other recipes.

Another key benefit of this recipe is that it is totally versatile. The berries can easily be switched out depending on your preference or, if you are making it when fresh berries are out of season, dried fruits like apricots, raisins and goji berries can also be used. If you would like to make this dish paleo-friendly and dairy-free, use coconut oil instead of butter and coconut milk instead of heavy cream. And if you really want to get creative, you could even switch out the dark chocolate for carob chips in a Nourishing Traditions inspired style.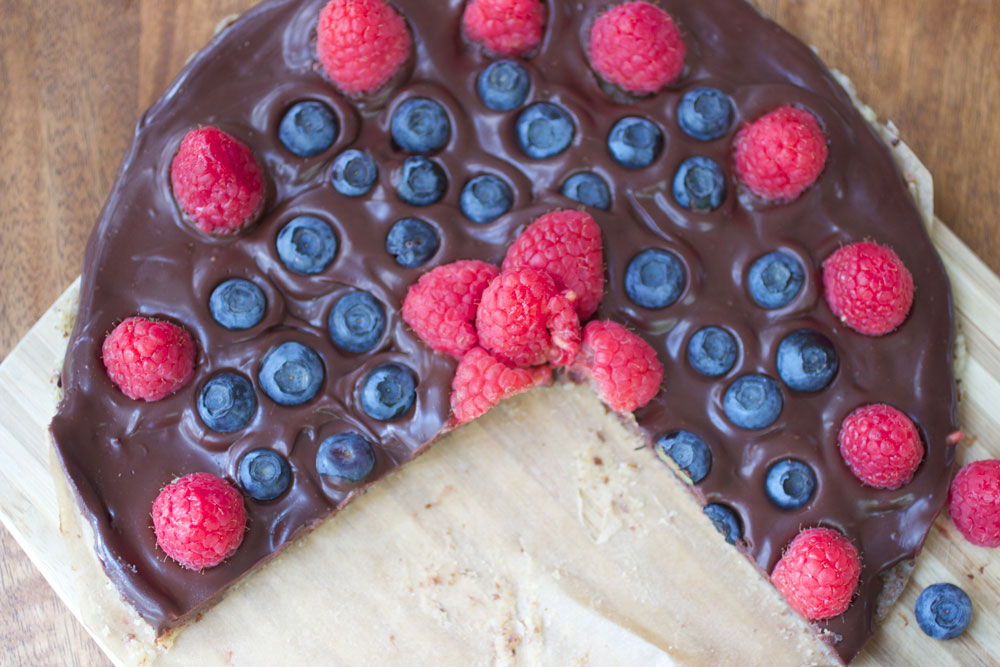 Any which way you decide to make it, this dessert is sure to impress. The slightly tart berries are perfectly balanced with the sweetness of the chocolate and the maple syrup in the crust. The ganache filling is wonderfully rich, making one tiny sliver enough to satisfy. Leftovers can be stored in an airtight container in the refrigerator, or packed into the freezer for longer term storage. The slices freeze well individually too, making a convenient treat to have on hand when a sweet craving hits. Simply slice them up and layer them onto parchment paper in a freezer-safe container.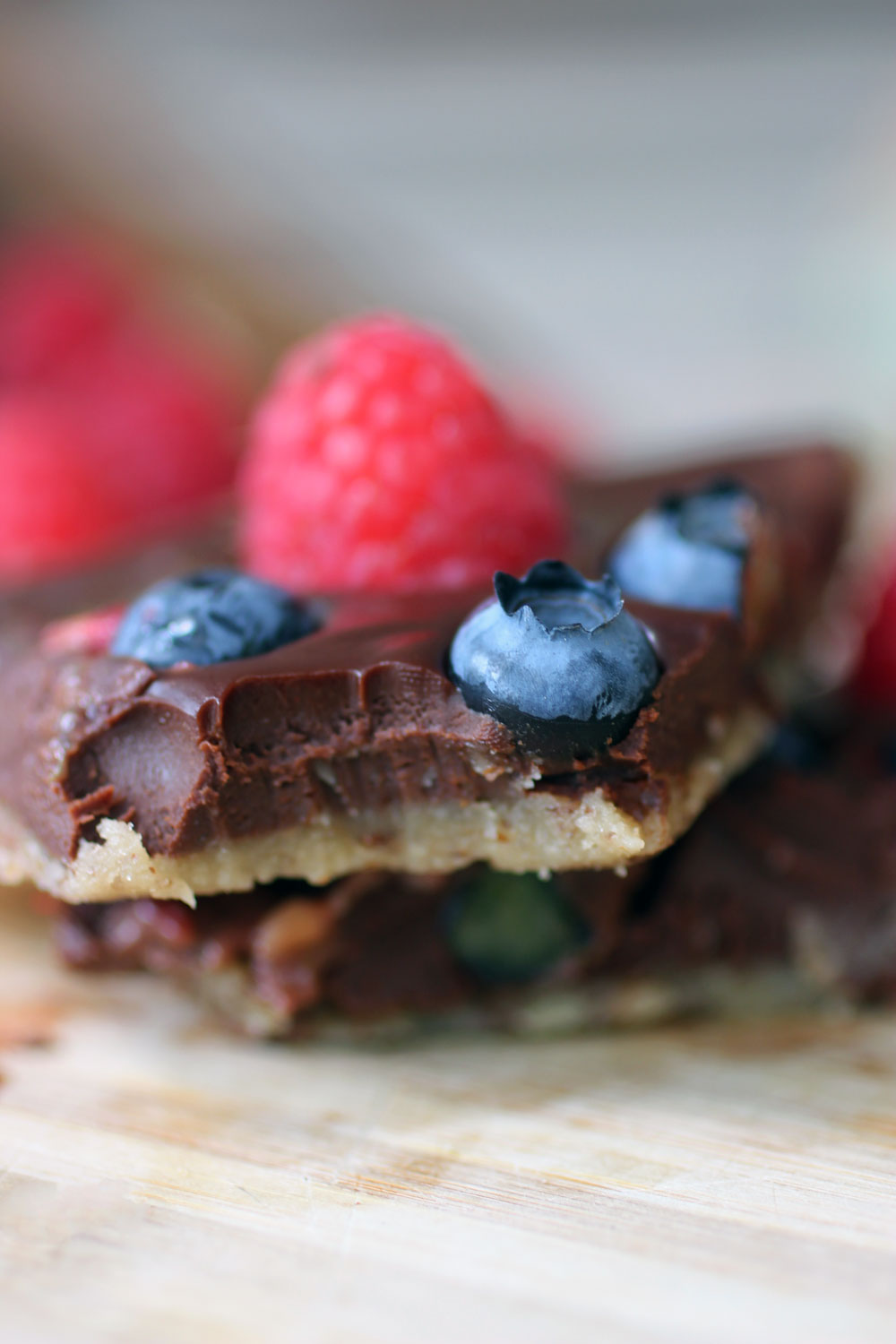 No-Bake Chocolate Berry Slices
By Kayla- Radiant Life
Ingredients
For the crust:
1 1/2 cups almond meal
1/4 cup butter or coconut oil, melted
1 tablespoon maple syrup
For the filling:
1/2 cup heavy cream or coconut milk
5 oz dark chocolate, coarsely chopped
1 cup fresh berries (like blueberries, raspberries and/or strawberries)
Instructions
Line the bottom of a round 9" cake pan with parchment paper.
In a medium bowl, mix together the crust ingredients until they form a sticky dough. Scoop the dough into the cake pan and press in an even layer that covers the bottom of the pan. Place in the refrigerator or freezer to set.
Meanwhile, place the coarsely chopped chocolate in a separate heatproof bowl. In a small saucepan, heat the cream or coconut milk on medium-high until it just begins to boil. Remove from the heat and pour over the chocolate. Let stand for 1-2 minutes. Once the chocolate has softened, stir until smooth.
Pour the filling over the prepared crust and spread into an even layer. Press the berries onto the filling in desired pattern. Place back in the freezer for 1-2 hours. Remove from pan by peeling up parchment paper. Slice, serve and enjoy!