Raise your hand if you had pumpkin pie at Thanksgiving! I sure did. Anything pumpkin is my favorite. Of all holiday foods, I look forward to pumpkin pie the most. I even enjoy the leftovers at breakfast! I am not really sure what it is about pumpkin pie that I love so much – the creamy texture, the subtle sweetness, the bright orange color, or all of the above. That is why I also love this "Pumpkin Pie Protein Smoothie" recipe. It has the same pumpkin pie flavor, but with a few ingredients replaced with healthy, real food alternatives. It is, simply, pumpkin pie in a glass. And it is magical.
As I stated in my "Pumpkin Coconut Crusted Chicken" post, pumpkin is exceptionally high in the vital mineral of magnesium. This smoothie also consists of full fat coconut milk, which is loaded with healthy fats called medium chain triglycerides. These uniquely composed fats aid in balancing cholesterol, regulating metabolism, reducing hunger, and more. (1) The other important ingredient in this smoothie is collagen protein powder. Collagen also has many benefits including helping with digestion and the health of hair, skin and nails. (2) This smoothie is also loaded with nutrient-dense natural sugars including dates, date sugar, a ripe banana and a variety of spices to enhance the flavors even more!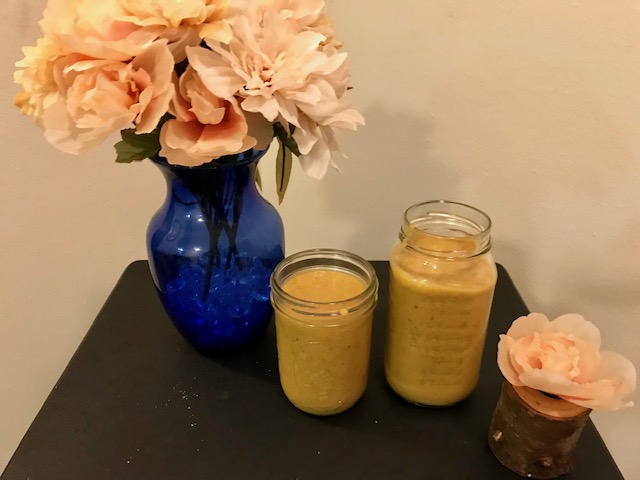 This pumpkin pie protein smoothie is incredibly simple and easy to make. I love to make double and save a glass for later. Really, there are so many great ways to use this recipe: from a hearty breakfast to a tasty, nutrient-packed dessert and in-between. This smoothie also comes in handy as an on-the-go snack and can easily be poured into your favorite glass water bottle (check out my favorite Lifefactory glass bottles) to be enjoyed throughout the day. I hope you love it as much as I do!
Pumpkin Pie Protein Smoothie
Ingredients:
8 ounces Pureed Pumpkin
1 ripe Banana
2 tablespoons Coconut Oil
12 ounces full fat Coconut Milk
2 scoops Collagen Protein
6 pitted Dates
½ teaspoon Vanilla Extract
½ teaspoon Cinnamon
½ teaspoon Ginger
¼ teaspoon Nutmeg
¼ teaspoon Cloves
¼ teaspoon Salt
1 cup of ice
Directions:
Put all ingredients into a blender and blend until smooth. Pour to your liking, sit back, and let your taste buds speak for themselves!