Around here, we've been using a lot of red palm oil this season. With a vivid red color and intriguing taste that borders on the exotic, we can't seem to get enough of this unique healthy fat. From vegetable stirfries to egg dishes and robust sauces, red palm oil offers a warm, waxy flavor that perfectly complements most all savory meals. Plus with more vitamin E than any other plant food, its nutrient profile is nothing to complain about. If you've ever dipped a spoon into a jar of this rich, velvety oil, you may understand just how captivating it can be to cook with. And if you haven't, you must try this spicy chicken dish. It is a basic recipe that's been turned exciting with a bit of red palm oil flair. Strap on your aprons folks, because your kitchens are about to get red!

While palm oil is one of the most popular fats used in global cuisine, red palm oil certainly doesn't get the attention it deserves in the United States. What is red palm oil you might ask? In short, it is the oil from the fruit of the Elaesis guineensis or oil palm tree native to tropical Africa. The stunning bright red oil naturally rises from the flesh of this palm fruit. Historians believe it has been harvested for culinary uses for over 5,000 years.
With loads of antioxidants and medium-chain fatty acids, this hearty traditional fat has been found to have many health benefits that make it arguably superior to other tropical oils (even ever-popular coconut oil). However, the appearance of cheap, refined palm oils has made finding quality versions somewhat difficult in the modern marketplace. Only red palm oils that have been ethically-sourced and small-batch crafted should be used. The article Red Palm Oil: Healthy Fat That Rivals Coconut Oil by our friend Sarah, the Healthy Home Economist discusses issues at length.
We have spent a great deal of time researching the palm oil industry and speaking with different crafters and companies about their production processes. We have found several red palm oils that we really like and trust. You can check out our selections here.
In summary, the benefits of high quality red palm oil include:
Rich with medium chain fatty acids
Full of antioxidant Carotenoids (beta-carotene and lycopene)
Contains naturally occurring Vitamin-E (tocopherols and tocotrienols)
One of the richest plant sources of heart protective CoQ10
High levels of immune-strengthening squalene
Easily digested and stable for high heat cooking
Inflammation-reducing plant sterols
Now let's get to the tasty part!
Spicy Chicken with Red Palm Oil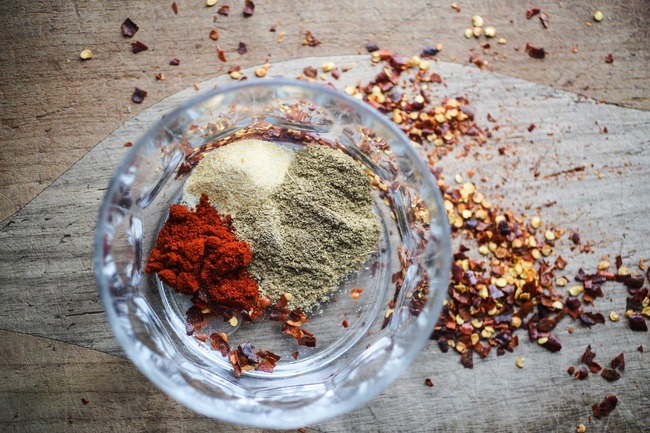 Ingredients
8 boneless chicken thighs (about 1 1/2 lbs)
2 tsp garlic powder
1/2 tsp cayenne pepper
2 tsp smoked paprika
1/2 tsp ground red pepper
2 tsp cumin
2 tbsp red palm oil, melted
1/4 cup raw honey
2 tsp cider vinegar
1 tbsp fresh parsley, chopped (optional)
Directions
In a large mixing bowl combine garlic powder, cayenne pepper, smoked paprika, ground red pepper, cumin, and red palm oil.
Add chicken to bowl; toss to coat.
Place chicken on oiled broiler pan. Broil chicken 5 minutes on each side.
While cooking; mix honey and vinegar in small bowl. Stir until well combined.
Remove chicken from oven after being cooked on each side for 5 minutes; brush honey mixture over chicken.
Broil for an additional minute or until chicken is cooked.
Garnish with finely chopped parsley (optional)