It's been a busy season around here! From working away at sourcing some new products (keep an eye out this winter!) to visiting with our Weston A Price Foundation family at the recent Wise Traditions Conference, we've enjoyed every minute of it. This also means we've also been munching on some hearty autumnal dishes to keep us going through long days. Of all the recipes I've whipped up, I wanted to be sure to share this one with you: it's a delicious stuffed acorn squash brimming with pomegranate and sunflower seeds. An original from my sister, it is the perfect combination of salty and sweet, and was made from all things I already had hanging out in the kitchen.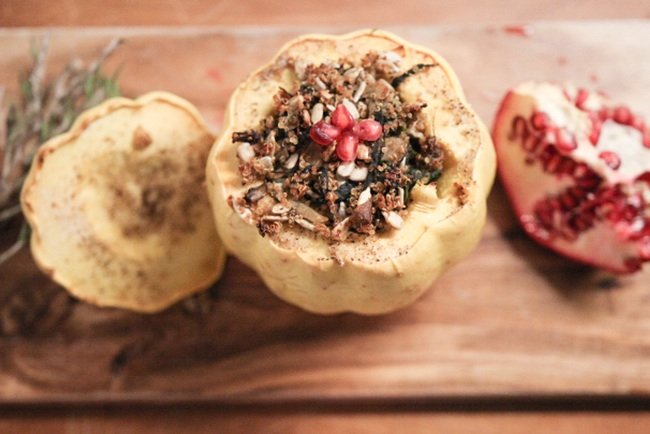 One of the best things about this dish is that it can be made in two ways: 1) with quinoa stuffing as a veggie-based side dish, or 2) with ground beef incorporated right into the filling for an all-in-one meal. As you can see, the recipe can essentially be adapted to fit with whatever fixins' you have on hand. Swap out the vegetables depending on what's lingering in the fridge, or use dried spices instead of fresh. Also, the stuffing itself is so tasty that if you have any left over, it can easily be used over a salad the next day. I mean, it is hard to go wrong with squash and stuffing at this time of year, right?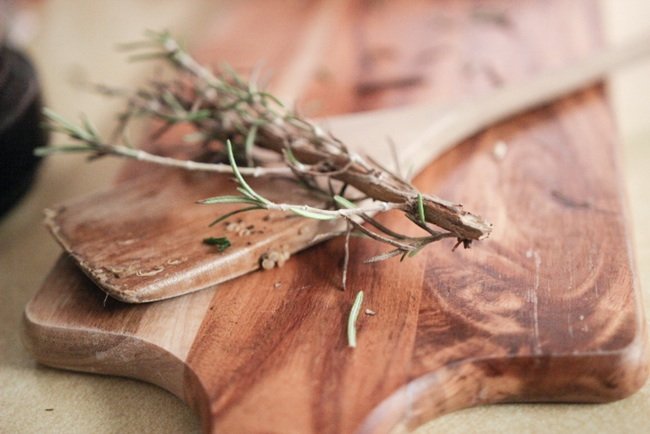 Roasted and Stuffed Acorn Squash
By
Kayla- Radiant Life
Ingredients
2 acorn squash (I used white ones)
3 tablespoons virgin coconut oil, ghee or red palm oil, separated
1 teaspoon cumin
1/2 teaspoon coarse himalayan salt
pinch of pepper
1/2 cup dry quinoa or 1/2 lb ground beef
1 tablespoon fresh rosemary, finely chopped (or 1 teaspoon dried)
1 cup mushrooms, chopped
1/2 cup onions, chopped
2 cups fresh baby spinach leaves
1/4 cup sprouted sunflower seeds (soak your own or buy some here)
1 tablespoon pomegranate seeds
Directions
To Prepare the Roasted Acorn Squash
1. Preheat oven to 375° F
2. Cut acorn squash in half. Remove seeds and innards from halves and discard.
4. Brush each section with about 1 tablespoon of melted oil. Season with cumin, salt, and pepper.
5. Place the cut side down onto baking sheet, and bake for approximately 35-45 minutes or until tender when pierced with fork
To Prepare the Stuffing
1. For veggie version: Cook quinoa following directions on the package. I prefer to soak quinoa in 1 cup water with 1/2 tablespoon vinegar for several hours prior to cooking to neutralize phytic acid (you can learn more about the process in this quinoa recipe).
For meat version: Saute 1/2 lb of ground meat in a heavy skillet.
2. Once finished cooking, transfer stuffing base to a large bowl.
3. Separately, heat 1 tablespoon of oil in a skillet over medium-high heat. Add mushrooms, onions and rosemary. Cook until onions become translucent (about 5 minutes). Add spinach and cook until just wilted.
4. Carefully add hot veggie mix to stuffing base. Sprinkle in sunflower seeds and toss all to combine.
5. Scoop preferred amount of stuffing mix into each acorn squash half.
6. If desired place stuffed acorn squash back into oven for additional 10-15 minutes.
7. Garnish with pomegranate seeds and enjoy!