For a long time, I was an admittedly stubborn goji-berry-ignorer. Uninterested in what I thought was a "trendy superfood" and distracted by my already long scrawling list of dietary ideas, I would frivolously toss my hand at any discussion of them. I intentionally sauntered by their mystically decorated containers in the grocery store and flipped quickly past boldly titled articles detailing their "instant health benefits" in magazines. Yet, upon further understanding, I recognized that I was both naively and disrespectfully blind. Goji berries are not simply an energy-boosting powerfood to be gnawed at aggressively after a workout, but rather a gentle, sacred plant with deep medicinal tradition. Unlike the exploitive media-hype it has been given, this beautiful fruit deserves an understanding and a respect that mirrors its delicate healing composition. They may not be the one-stop fix for all of your maladies, but dried goji berries sure taste good! Learn how to organically incorporate these juicy, naturally sweet and revitalizing morsels into your diet.
Goji berries, or wolfberries, are charming, bright red-orange berries, native to the dynamic, high altitude climate of the Himalayas. This 5,000 year old superfruit is phenomenally nutrient rich and has been used in Chinese and Tibetan medicine traditions for generations. Considered an herb in Asia, these "red diamonds" have been used as an elite tonic to cultivate well-being and wholesome longevity in consumers. To this day, goji berries are honored as a precious remedy in many eastern medicinal practices, with their dynamic health benefits gaining whispers of respect across western circles. As a result, their treasured ancient benefits have been recently verified by the scrupulous analytics of modern science, to reveal a myriad of biological reasons for their trusted health-boosting powers.
Health Benefits of the Goji Berry
Powerful Antioxidants. This unique fruit is extremely rich in antioxidants which help to protect cells from the damaging free radicals that are inherent in our environment and foods. Goji berries are dense in phytochemicals such as carotenoids and flavonoids, which have been implicated in some medical studies to help fight inflammation and slow degenerative diseases such as osteoporosis and Alzheimer's. In fact, goji berries are considered so potent that they rank #1 on the ORAC scale (Oxygen Radical Absorbance Capacity), a USDA-established testing tool that ranks the antioxidant capacity of foods.
Unique Pure Minerals. Because native goji berries (such as those offered by Heaven Mountain) are harvested primarily from the pristine foothills of Central Asia, they have grown in a virgin land thousands of miles from industrial contamination. Gathered in the spring, the berries have matured in dark mineral-rich soils and thus maintain a 21 trace minerals in complex constitution that is rare among modernized foods. The high levels of iron, zinc and selenium found in goji berries are beneficial for immune system support, blood cell production and cellular repair.
Wide-Ranging Vitamins. Goji berries offer an elaborate collection of distinctive vitamins, some of which are not generally found in fruits. This superfruit contains energy preserving Vitamins B1, B2 and B6, and immune-boosting Vitamin C. It also contains fat soluble Vitamins A and E which help prevent damage to cells and support healthy skin, mucus membranes and soft tissue. Goji berries also contain betaine- an alkaloid choline producer that aids in strengthening the detoxification process of the liver.
Complex Polysaccharides. These tasty berries are high in complex carbohydrates called polysaccharides. Research has found that unlike destructive simple saccharides, these compounds have a more elaborately bound glucose molecule that helps in modulating blood sugar surges. Furthermore, polysaccharides work to stimulate immune and probiotic cells for healthy digestion and immune system response.
What To Do With Goji Berries
Goji Berries are easily assimilated in the diet. They make a lovely compliment in savory dishes, and add interest to baked goods. There is truly no limit to creativity when it comes to goji berry culinary adventures. Pleasantly chewy, they offer a balanced combination of sweet and zesty taste that makes them easy to savor in raw, dried form. You can add a handful to trail mixes in combination with sprouted nuts and dehydrated coconut for an earthy, energy-packed snack. My personal favorite? Simply add a smattering of goji berries into pure filtered water to yield a cool, hydrating drink, or heated as a warming tea for stormy days. Below you will find one impressive entree to start you off. It takes little time to make and offers all of the unique health benefits of omega-3 rich wild-caught salmon in combination with the subtle sweetness of the goji. It is simply melt-in-your-mouth delicious, and best enjoyed with laughter and friends on a blissfully calm summer evening. If fish is not something you eat frequently, it can be replaced with other organic meats and the guacamole is so tasty, it can be enjoyed right from the spoon.
Wild-Caught Baked Salmon with Mango Goji Guacamole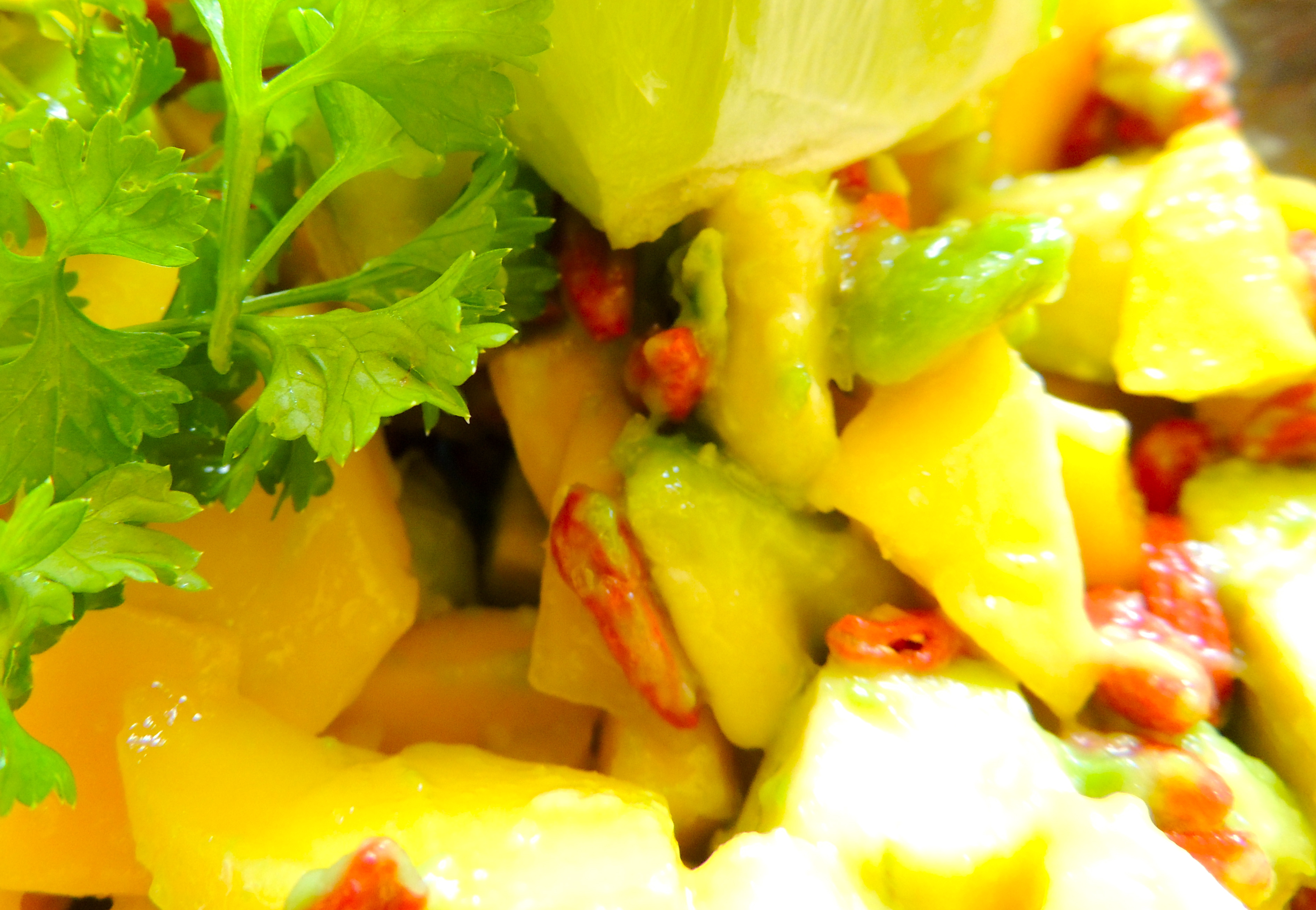 Goji Berry Mango Guacamole
1 avocado, diced
1 mango, diced
1 small white onion, diced
1 lime, squeezed
1 handful dried goji berries
1 bunch fresh cilantro, chopped
1 bunch fresh chives, chopped
dash himalayan salt
Sprinkle cayenne pepper to flavor
Add ingredients into medium size bowl. Toss together and refrigerate until ready to serve.
Baked Salmon
1 1/2 lbs wild salmon filet
1/2 lemon
2 tablespoons melted butter or grass-fed ghee

1/3 teaspoon paprika
1/2 teaspoon himalayan salt
Preheat oven to 350 degrees. Place salmon, skin side down, in buttered glass baking dish. Brush generously with butter or ghee and squeeze on lemon juice. Sprinkle with paprika and salt. Bake for 10 to 15 minutes, or until cooked through. Serve with mango salsa for a refreshingly spiced summer delight.
Resources:
5 Easy Ways to Add Goji Berries To Your Diet by Mike Adams