It is that time of year again – school is back in session! Last year I did a post featuring some "Essentials for Back to School" and this year, I want to feature a recipe to provide your child with a nourishing, yummy snack for his or her lunch box. These homemade chewy, energy bars also make for great after school pick-me-ups!
Snack bars seem to flow in abundance at grocery stores, markets, gas stations, and more. Who doesn't like a quick energy fix? But not so fast. Sadly, it should not come as much of a surprise that most snack bars are full of empty calories, refined sugars, and preservatives. Unfortunately, this can lead to feelings of never being full, energy crashes, and further cravings. Thankfully, there are better options, and ones that you can easily make in your own kitchen! (1) (2)
These chewy, yummy, energy bars are full of nutrient dense nuts and seeds, and are free of all refined sugars. They feature dates and maple syrup, which add sweetness, without providing a sugar high. They are also loaded with healthy fats to support endurance and promote feelings of fullness. And lastly, they are packed with a punch of cinnamon and vanilla to capture the essence of Fall!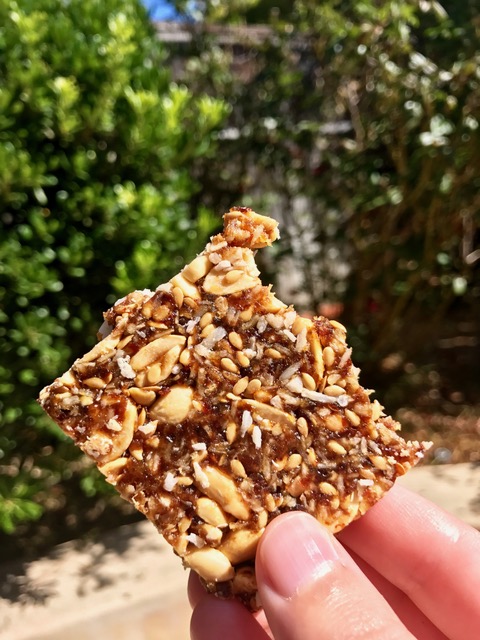 What I LOVE about these bars is that they are SO flexible! You can easily substitute nut and seed options to suite your personal taste. Also, while many people may find a food processor to be a helpful tool when making these bars, it is not necessary. I made mine without one! Simply chop the nuts as coarsely or fine as you wish, and then mix.

If you are using raw nuts and seeds for the bars, you may consider soaking them to reduce phytate content and enhance mineral absorption. Phytic acid is one of those pesky anti-nutrients found in grains, legumes, seeds, and nuts. Not only does it grab and chelate important minerals, but it also inhibits enzymes that we need for good digestion. (3) In addition, you can also roast your nuts before chopping them, adding additional texture and flavor to your bars. In this recipe I use Blue Mountain Organics Nuts and Seeds, which are already soaked and sprouted. Finally, consider sprinkling the top of your bars with coconut flakes before you pop them in the oven!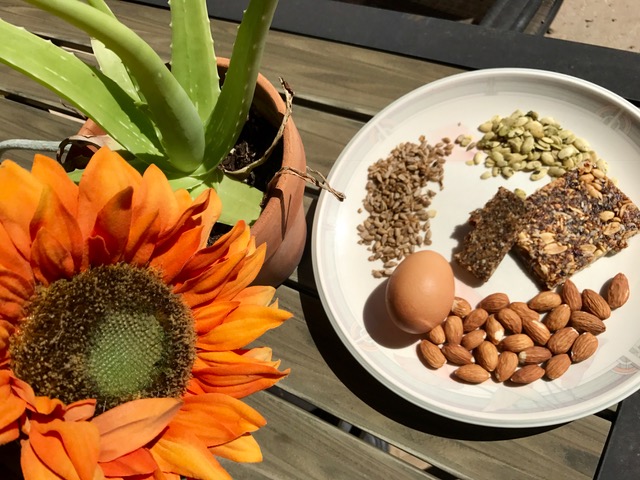 Ingredients:

❖ 3/4 cup whole raw almonds
❖ 3/4 cup cashews (can substitute peanuts)
❖ 1/3 cup pumpkin seeds (and/or sunflower seeds)
❖ 2 tablespoons whole flax seeds
❖ 3 ounces dates – pitted (about 5 dates)
❖ 2 tablespoons warm water
❖ 2 tablespoons pure organic maple syrup
❖ 1 large egg white
❖ 2 tablespoons cinnamon
❖ 1 1/2 teaspoons vanilla
❖ 3/4 teaspoon sea salt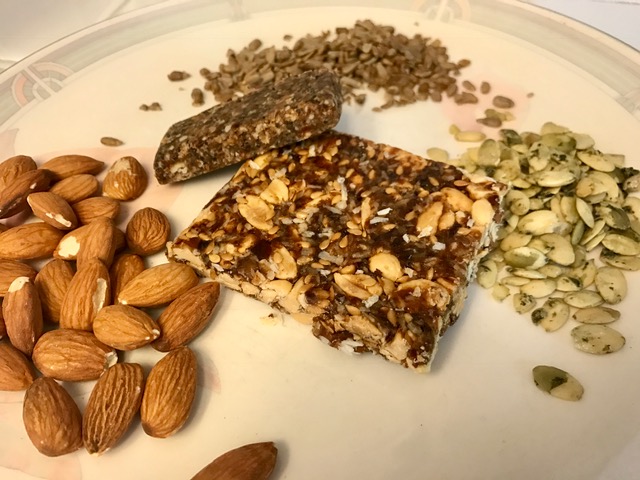 Directions:

1. Pre-Heat the oven to 350 degrees.
2. Chop your nuts. You can either put them all into a food processor, or you can do it the old-fashion way and put them all in a plastic bag, seal it, and then roll over them with a rolling pin.
3. In a medium bowl, dump all chopped nuts and add seeds. Stir well.
4. Chop dates and place in a small bowl.
5. Add water, maple syrup, egg whites, cinnamon, vanilla, and sea salt. Mix well.
6. Add the wet ingredients to the dry and mix until well blended.
7. Line a 9X13 pan with parchment paper and grease with a layer of coconut oil.
8. Pour mixture into pan and press firmly.
9. Bake for 16-18 minutes.
10. Let the bars cool about 10-20 minutes and then remove them from the pan with the parchment paper.
11. Slice and enjoy!